Thank you for purchasing a new laboratory test kit from Westgate Labs and choosing us to help support your horse's health and the environment!
Improving animal health has always been important to us since we first pioneered our postal worm count service to encourage the sustainable use of wormers. We're delighted to be able to take these next important steps in our environmental responsibility, we hope you share our ethos too! 
Please click on one of the links below to view the online guide for the test you need.
Equisal test for horse tapeworm
N.B. Not available in a compostable pack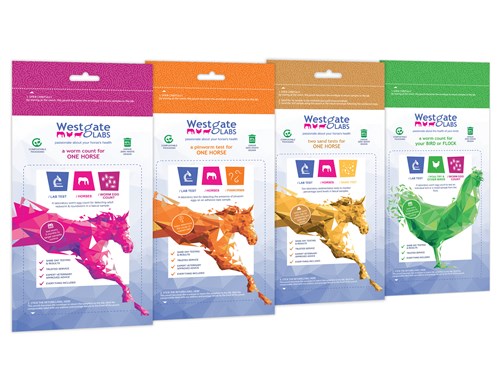 The pouch you purchased the kit in becomes the envelope to return the sample to the laboratory. This enables us to take responsibility for the journey of the entire product from start to finish and should leave you with no waste left over. Full instructions are included on the pouch and also in the guides above but if you need any further help please get in touch!
Once the pouches arrive back at the lab the packaging material will be composted on the muckheap.  In a few months' time the well-rotted manure will be used as fertiliser for tree planting in a new 130 acre nature reserve that Westgate has established on their family farm in Northumberland where the lab is based. 
We'd love to have your feedback on our new pouches. Please email info@westgatelabs.co.uk or phone 01670 791994