Young Learners & Pony Clubs
Find out about pony parasite control!
Testing for worms
As other illnesses can create these symptoms too, the best way to know whether parasites are the problem is to test for them. The boffins at Westgate Labs who specialise in testing horses for worms are happy to help. Sometimes worms come out in the horse's poo but this is also not a reliable way to know whether they need treatment.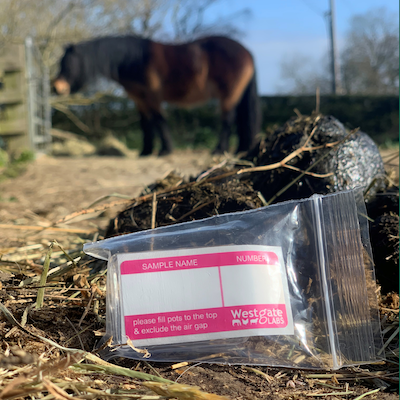 To do this just take a sample of the horse's dung, put it in a pot and send this away to the laboratory. They will carry out a scientific experiment to count the number and type of worm eggs that they find in the sample.
Regular worm egg counts are the basis of a test based programme. It's impossible to look at a horse and know whether or not it has worms, even a very healthy looking horse can still be carrying large numbers of parasites.
A worm egg count is a reliable test for redworm and ascarid parasites. If any adult worms are laying eggs inside the horse the test result will give a statistical number of how many eggs per gram (e.p.g.) of poo.
This helps us to decide whether we need to give any treatment or not. 
WORM EGG COUNT RESULTS
LESS THAN 200 EPG (LOW COUNT)
If the count is less than 200 epg then it is a LOW count and your worming measures are working. There is no need to worm at this level.

200 EPG - 1150 EPG (MEDIUM COUNT)
A count between 200 epg and 1200 epg it is a MEDIUM count and the horse needs worming.
1200 EPG OR MORE (HIGH COUNT)
If the count is more than 1200 epg it is a HIGH count, the horse needs worming and the worming programme needs attention.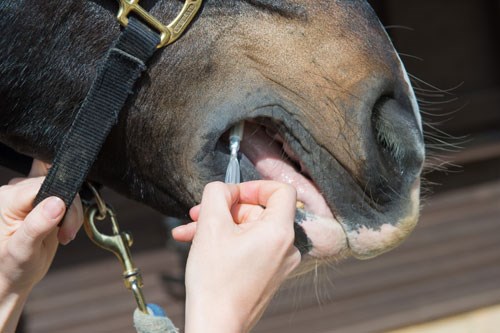 We may also see tapeworm eggs in a worm egg count but because these are laid in packets in the poo rather than being evenly distributed like redworm and ascarids, it isn't a reliable test for this sort of worm. Instead, Some of the horse's spit is collected using a specially designed swab for an EquiSal test. The worm boffins carry out a different experiment to measure specific antibody levels that the horse produces against any tapeworm infection. This generates a serum score. The results accurately detect whether any worming treatment is required.
| | | |
| --- | --- | --- |
| EquiSal Tapeworm Saliva Score | Tapeworm Diagnosis | Tapeworm Treatment Recommended |
| < -0.09 | Low | No |
| -0.09 - 0.6 | Borderline | Yes |
| > 0.6 | Moderate/High | Yes |