BECOME A WESTGATE ALL SEASONS SUBSCRIBER
SUBSCRIBE TO OUR PARASITE CONTROL PROGRAMME AND HAVE PEACE OF MIND FOR YOU AND YOUR HORSE WITH Tailored solutions AND affordable monthly payments
All Seasons provides tailor made subscription programmes that will help give you peace of mind when managing your horse's health throughout the year.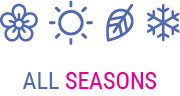 As a responsible horse owner you will know that regular testing is the best way to manage parasites and help keep your horse healthy and happy.
To reward you for doing the best for your horse, we take the guesswork out of your parasite control programme and help you spread the cost of tests across the year. Subscribers also have access to the total Westgate test control programme with exclusive offers.
Sign up to a subscription programme below to become All Seasons Healthy! Your first test kits will be sent out as soon as you sign up. Spring is March-May, Summer is June-August, Autumn is September-November and Winter is December -February for selecting your EquiSal tapeworm testing.
Please ensure you have read through the terms and conditions here before sign up also Terms & Conditions (westgatelabs.co.uk)
How It Works
what to expect from our subscription service
WHAT TYPE OF HORSE DO YOU HAVE?
Please select your horse and subscription type
Healthy Adult
Horse
Young
Horse
High Risk
Horse