Seasonal Parasite Control Winter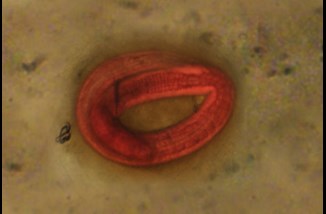 Responsible horse owners try to minimise the wormers they give their horses, basing their parasite control on the evidence of worms being present rather than treating routinely. This helps to slow down the process of them becoming resistant to the medication we have available.
Encysted Redworm
Targeted worming programmes are based on regular worm counts for redworm and roundworm and the EquiSal saliva test for tapeworm. There is however one dangerous parasitic stage of the small redworm that we can't test for (yet!).  Vets and SQPs therefore advise putting one proactive dose per year into your worm control programme as a preventative treatment against the possibility of encysted redworm (cyathastome) larvae. This is best done in the winter months between December and February.
Many wormers treat adult redworm but only two, moxidectin (Equest) and five day courses of fenbendazole (Panacur Equine Guard,  are licenced for the treatment of encysted stages of small redworm. However, just like in antibiotics, resistance to wormers is a growing problem. There is now documented cyathastome resistance to fenbendazole (Panacur) and pyrantel (Strongid P) wormers. Egg reappearance times for other chemicals is also reducing in places which is the first sign of resistance developing to these drugs too.
Does your horse have resistant worms?
Killing two birds (or redworm!) with one stone, winter is the ideal time to include a resistance test in an annual programme. This is a worm count taken two weeks after treatment to measure efficacy and ensure that worming programmes are working effectively.
Results from previous winter resistance testing revealed that 40% of horses wormed for encysted redworm with fenbendazole and 2.8% of horses wormed with moxidectin had parasites that were showing some resistance to the wormer. Tests also showed 50% of horses with a positive redworm count that had been treated with moxidectin had been under-dosed, leaving those horses more susceptible to developing resistant strains of redworm.
Vet Carolyn Cummins commented: "It's imperative that we get worming right for the health of our horses. This simple treat and test can help to pinpoint potential problems and offer peace of mind that these important issues are under control. Resistance and the challenge to keep horses disease free from parasites is a very real problem and one that we should all be vigilant for.
"Speak to your vet or SQP about which wormer to choose for your horse, know your horse's weight and dose accordingly this winter. A worm count two weeks later is a very cost effective way to check efficacy and that your worm control programme is working. "