EquiSal Tapeworm Test Results
What do my results mean?
What do the results of my horse's EquiSal tapeworm test mean? For each horse on the result sheet there will be a tapeworm diagnosis as follows:
EquiSal Tapeworm Test Results
| | | |
| --- | --- | --- |
| EquiSal Tapeworm Saliva Score | Tapeworm Diagnosis | Tapeworm Treatment Recommended |
| < -0.09 | Low | No |
| -0.09 to 0.6 | Borderline | Yes |
| > 0.6 | Moderate/High | Yes |
Your results will identify horses with a low burden, a borderline (1 adult tapeworm) result or a moderate/high burden (9 + adult tapeworm) and treatment will be recommended by Austin Davis Biologics (the laboratory who developed the test) as detailed in the table above. 
The saliva score results span the scale of negative and positive numbers which can sometimes prove confusing! If you're a bit unsure what this means then we've developed the following infographic to explain how this works: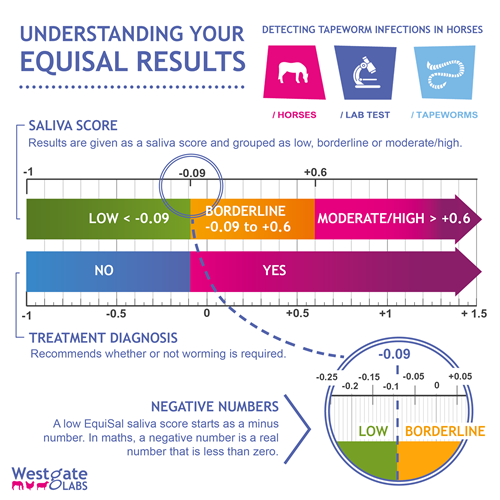 The most important part of the result to focus on is the accompanying advice about whether worming is required. Any score of -0.09 or higher needs treatment.
Tapeworm Treatment
Tapeworm treatments are most effective on the adult worms rather than any larvae present. This means horses can sometimes need a few cycles of test and treat to get on top of a burden.
Two chemicals treat tapeworm infections in horses; praziquantel and pyrantel given at a double dose. If targeting just tapeworm then a praziquantel only wormer is the preferred choice as it treats no other horse parasites. Unfortunately procuring it is now more difficult since Equitape was withdrawn from sale in 2018. It is however available as a special through your vet and is well worth getting hold of if you can.
Alternatively, a double dose of pyrantel is the second choice option. It can also be recommended for administration if; ascarids are also present (more likely in foals or yearlings or the redworm population in question is known to not be resistant to pyrantel.
Praziquantel is still available over the counter in combination with ivermectin and moxidectin if needing to treat redworm or encysted redworm at the same time. Wherever possible we want to avoid exposing worms to chemicals unless testing has indicated they are required.
Tapeworm testing following a borderline or moderate/high result: evidence based guidance
Lack of efficacy has now been reported to both praziquantel and pyrantel in equine tapeworm (Nielsen 2023). As a result, we are communicating additional guidance on the use of EquiSal saliva testing to inform on tapeworm control.
In horses that report with a borderline or moderate/high saliva score, a retest can be performed 12 weeks after treatment. This is because tapeworm-specific IgG(T) antibody reduces more rapidly in saliva than in serum, with one published study indicating that in over 70% of praziquantel-treated horses, antigen-specific saliva IgG(T) reduces to below treatment threshold levels within 5 weeks (Lightbody et al. 2016). Later studies demonstrated that in horses grazing fields where dung was removed frequently or horses that were stabled, saliva scores reduced below the treatment threshold in all animals within 12 weeks (Matthews et al. 2023).  
If saliva scores remain high at a retest from 12 weeks onwards, it indicates that ongoing transmission of tapeworm is occurring. Improvements in pasture management should be undertaken where possible, and/or an anti-cestode anthelmintic treatment should be considered where appropriate to mitigate further contamination of grazing with tapeworm eggs. All co-grazing horses should be assessed with EquiSal in case other horses are acting as a continued source of tapeworm eggs.
If saliva scores are persistently high despite the above measures, especially in a higher proportion of horses and where pasture management is deemed appropriate, anthelmintic resistance should now be considered a possibility.
References:
Lightbody, K.L., Davis, P.J., Austin, C.J., 2016. Validation of a novel saliva-based ELISA test for diagnosing tapeworm burden in horses. Vet. Clin. Path. 45: 335-46.
Matthews, J.B., Peczak, N., Engeham, S., 2023. An update on the latest developments in testing for equine helminths, In Practice, Under review.
Nielsen, M.K., 2023. Apparent treatment failure of praziquantel and pyrantel pamoate against anoplocephalid tapeworms. Int J Parasitol Drugs Drug Resist. 22;96-101.
If you need any advice as to which wormer is required please do not hesitate to contact us at [email protected] or 01670 791994.