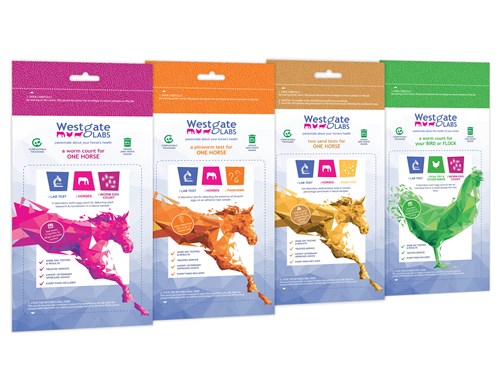 NEW Compostable Packaging 
18 January 2020
Sustainable parasite control just got even more environmentally friendly!
♻️ The innovative new packs enable us to take responsibility for the journey of the entire product from start to finish. The product is also exceptional as everything is returned to source! 
The new kits are supplied in strong paper based pouches that become the envelope used to return the samples to the lab. These have an aqueous starch coating that gives a protective barrier and enables them to sit safely in damp tack and feed rooms.  A compostable label is included for post-paid return of the samples and a 'peelable' strip is applied with compostable adhesive to re-seal the pouch for return.
The attractive pouches are printed with compostable vegetable ink that includes instructions to help customers to follow the sample return process. The materials are FSC certified and conform to EN13432 which verifies they are home compostable and plastic free. 
🌱 Once the pouches arrive back at the lab the packaging material will be composted on the muckheap.  In a few months' time the well-rotted manure will be used as fertiliser for tree planting in a new 130 acre nature reserve that Westgate has established on their family farm in Northumberland where the lab is based.
Four retail test kits are available in the range for horse worm egg counts, pinworm tests, avian worm counts and faecal sand test for horses to help guard against the risks of sand colic.
We will be rolling the new packaging out in the coming months so when you receive one, let us know what you think!
Retail packs also contain:
A disposable glove that can be safely put on the yard muckheap or returned in the pouch.

A voucher which acts as proof of purchase which is printed on FSC sustainable paper this is returned to the lab and recycled after processing.

 

To comply with postal requirements the samples must be sent in a rigid container that is sealed within a second layer. So far lightweight polystyrene plastic pots, bagged in sealable polythene bags are the best solution we've found. Plastic categorised as PS6 which includes clinical waste is a difficult category to recycle but Westgate are currently pursuing this possibility.

 

As materials advance it's hoped there'll be more choice in this soon.

 
HOW IT WORKS!
The pouch becomes the envelope to return the samples to the lab - stick the compostable postage paid label provided onto the front of the pouch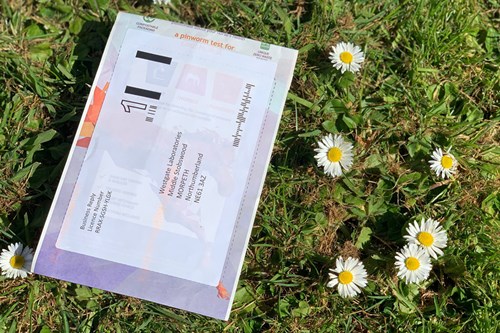 Then follow the simple instructions to close and fold the pouch onto the compostable glue strip.

COMPOSTING IN ACTION
When the packs come back to us in the lab we compost the pouches!
Once they're well rotted the intention is to use the compost to support new tree planting on the nature reserve we're establishing here on the farm here in Northumberland.