Horse worm egg count kit
Online information sheet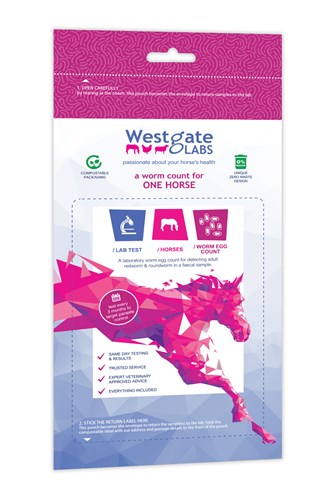 Good worm control starts with using worm counts and tests, only adding wormer doses as they're needed. This helps to slow resistance to the wormers while keeping our horses healthy. Using wormers sparingly should mean that they stay effective for those times when our horses really need them.
How to take and send a sample for a horse worm egg count
Choose a day to collect samples when worming is due or overdue for most of the horses. This is important so that you don't get a false result caused by wormer still working in your horse. The dung should be as fresh as possible but can still be posted the day after collection.
1. Open the pouch carefully by tearing at the tear notch; this pouch becomes the envelope to return samples to the lab.
2. Stick the compostable label with our address and postage details to the front of the pouch using the dotted line as a guide.
3. Take the sample and complete the return checklist on the back of the pouch
a. Use the glove to pick up about five small pinches from different places of a fresh dung pile.
b. Press the dung into the sample container, filling it to the top to exclude the air gap; this ensures we have sufficient dung to test and also helps to preserve sample freshness.
c. Label the sample with horse's name. Please write in ball point pen as water based inks may wash off.
d. Put the container in the plastic bag and seal. 
e. Put the sample and voucher in the envelope. Compost the glove on your muckheap or include in the envelope.   
4. Remove the tape on the back of the pouch and double fold to seal. Pop in the post box