Tapeworm treatment options
best practice to slow resistance in horses
specials manufacturer steps up to produce single chemical tapeworm option
for use under the cascade system
The wormer, Equitape, the only singe chemical praziquantel option for treating tapeworm infections in horses, was withdrawn from sale in October 2018. In a turn of fortune for horse health, a specials manufacturer dedicated to the veterinary industry stepped up to fill this gap. A new praziquantel-only equine product has been available to vets from- August 2018.
Consultant vet to Westgate Labs, Carolyn Cummins MVB PhD MRCVS commented
"Retaining a species-targeted treatment option is a fantastic outcome for sustainable worming practice and will go a long way in helping us to tackle the major welfare threat of wormer resistance. Evidence based control combining regular testing and targeted treatment is the best chance we have of protecting our horses from endemic disease caused by parasite infection both now and in the future."
Unlike other available wormers the product will not have gone through the licencing channels to allow it to be sold in tack shops, feed merchants and other retail outlets via Suitably Qualified Persons (SQPs) and veterinary pharmacists. Instead its classification as an unauthorised extemporaneous preparation limits it to sale by vets only, used exceptionally under the cascade system. While the manufacturer is inspected and approved by the VMD to provide assurance that the product is made to a specific quality the product itself has not been assessed. This is what has enabled the drug to be brought to market so quickly.
Horse Worm Treatment Prescribing Options
with the availability of a praziquantel-only worming product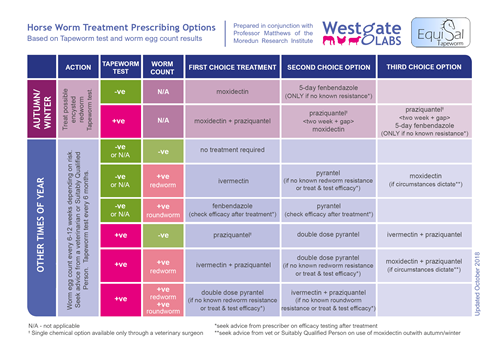 Click on the image above to open a bigger version as a .pdf
Where it has been confirmed that treatment for tapeworm is needed following a positive tapeworm test then the approach to other parasites (most usually redworm and roundworm) should also be considered by conducting a worm egg count.
If treatment for just tapeworm is indicated then a praziquantel only wormer would be one of the preferred choices of your vet. Alternatively, a double dose of pyrantel can be recommended for administration if;
ascarids are also present (more likely in foals or yearlings)
or
the redworm population in question is known to not be resistant to pyrantel.
Where treatment for redworm is indicated at the same time as tapeworm treatment, then an ivermectin + praziquantel combination wormer would be the recommended selection through spring, summer and autumn. In winter when a proactive treatment for the possibility of encysted redworm is advised then a moxidectin + praziquantel would be preferred treatment or alternatively a praziquantel only wormer followed two weeks later by a moxidectin only wormer or 5-day fenbendazole where there is no resistance known.
Horse owners should contact their vet to obtain the wormer if required, which we understand will be competitively priced. While the prescription limitations may make this wormer less convenient for the consumer to purchase, if we return to what is right for the horse, this compromise should be indefinitely outweighed by our ability to successfully manage parasite control with the limited numbers of drugs available. For if we have to stop keeping horses we're all very much worse off.
Resistance Status of the Five Main Horse Wormers
There are only five main types of wormer available to treat horses in the UK, namely: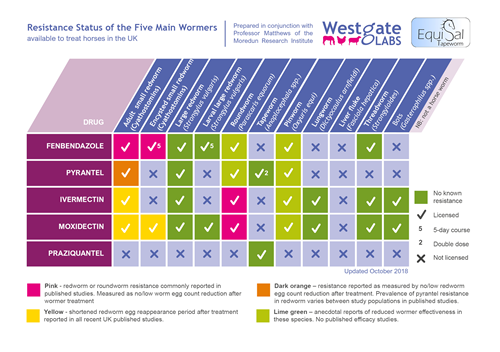 Click on the image above to open a bigger version as a .pdf
More information on licensed products available can be found at http://www.vmd.defra.gov.uk/ProductInformationDatabase/