Seasonal Parasite Control
Spring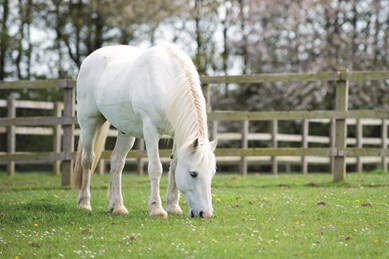 The tantalising signs of spring in the air are a welcome sight for any horse owner. It's enough to cheer the soul even if it does bring with it the joys of mass moulting and a rising risk of parasite infection.
High counts for redworm
Unfortunately the milder weather, however good for us, should raise alarm bells for our worming as parasites will also be enjoying the respite. In one week in early March 2017 (which followed a similar seasonal pattern to the weather we are seeing in 2019) nearly 20% of horses tested returned high worm counts of over 1,200epg for redworm with a significant number of these over 3,000.
Regular temperatures over six degrees Celsius, low levels of UV light and wet ground are the probable culprits. Couple this with a lifecycle of around 5-6 weeks and a redworm challenge can quickly take hold within a horse to become a problem.
If you gave the suggested winter dose for the possibility of encysted redworm then now is the time to resume the regular testing programme. Don't delay your worm counts this Spring to make sure you're on top of any potential problems.
Tapeworm time
We're also advised to consider tapeworm every six months, either in Spring and Autumn or Summer and Winter, so you may need to address this too, our preference always being to test first. Target tapeworm with an EquiSal saliva test to determine whether you need to dose or not; only 27% of horses tested for tapeworm actually need a wormer for it so odds on you'll be saving giving another wormer.
Pinworm
The other parasite to keep an eye out for is the perennial pinworm problem which has also been prevalent this spring – perhaps because horses are kept in closer confinement over the winter and so are more likely to reinfect themselves from where they rub.
Watch for signs of tail rubbing or discomfort, a sticky substance around the anus or bean sprout type worms appearing in the droppings. Check with an adhesive tape test if you suspect a problem.
Mares & Foals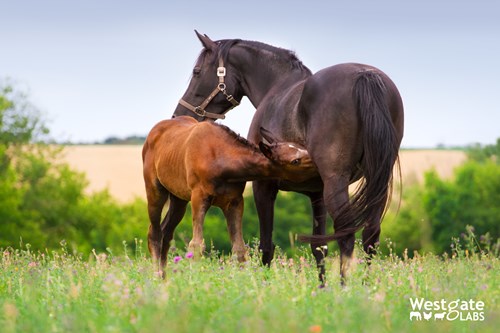 If you're expecting foals on the ground this year congratulations! Foals and youngstock require much more proactive treatment than older horses, you can find our handy guide for worming mares and foals here.
Stay vigilant this Spring and if you need any help with your worming then please contact our friendly team for free, veterinary approved advice.
4Count PLUS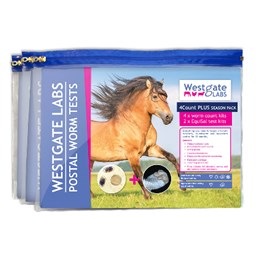 The cost effective way to organise your routine tests for the year is with our great value 4Count PLUS pack – a handy season pack containing everything you need for four worm counts and two EquiSal tests.

Only £67.90 plus £2 P&P
SUBSCRIBE
Or you could choose our NEW subscription programme for the ultimate in simplicity and peace of mind for your parasite control. A bespoke testing programme for your horse and monthly payments to help spread the cost.

From £6.50 per month