Avian worm egg count
Online information sheet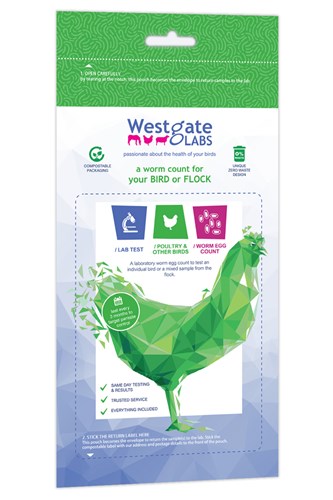 Use regular worm egg counts to monitor your birds for signs of parasite infection. Only when the test indicates worms are present will you then need to step in with a treatment.

Checking your flock in this way will help to give you peace of mind that your birds aren't carrying unwelcome parasites that will impact their health, while reducing the need for regular worming doses.
How to take and send a sample for an avian worm egg count
With only a few hens in your flock you may like to test individually. Collect a sample from each chicken and fill and label a container for each hen.
Otherwise you may wish to collect a composite sample: we advise submitting one sample for every 10-15 birds if using this method with a larger flock.
1. Open the pouch carefully by tearing at the tear notch; this pouch becomes the envelope to return samples to the lab.
2. Stick the compostable label with our address and postage details to the front of the pouch using the dotted line as a guide.
3. Take the sample and complete the return checklist on the back of the pouch
a. Collect fresh droppings from several places in the hen house, using the large plastic bag provided.
b. Mix together well by squeezing the bag. Fill the sample container using the mixed droppings sample.
c. Label with your own name and the sample name/number.
d. Put the container in the plastic bag and seal. 
e. Put the sample and voucher in the envelope. Compost the glove on your muckheap or include in the envelope. 
4. Remove the tape on the back of the pouch and double fold to seal. Pop in the post box