Are Fly Masks Necessary
For Horses?
We know flies are annoying... but do our horses really need fly masks? We asked Equilibrium Products who excel in designing products that make a difference to the horse's comfort and well-being – both physical or mental.
The answer is often yes - and for various reasons which aren't always to do with flies. While there are definitely some hardy types out there, horses are sensitive and their eyes are even more so.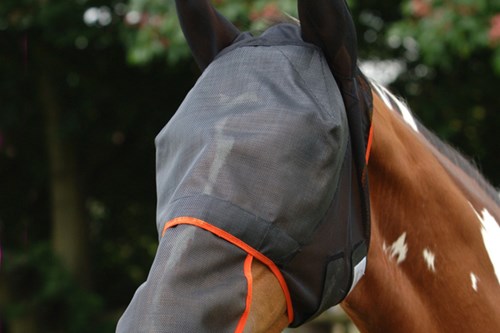 Reasons to use a fly mask:
Flies can carry and spread disease
Flies can cause irritation of the eye, leading to rubbing which can potentially introduce dirt and infection
Fly masks can help protect the eye from secondary infection, flies or wind if the eye has had any trauma or damage
Horses eyes can be sensitive to both UV and wind
A UV protective mask with nosepiece can provide protection from the sun for sensitive, pink skinned horses
Some horses are 'fly magnets' and get particularly distressed by flies.
Most fly sprays are not suitable to be used on the face, and even more could irritate the eyes.
What to look for in a fly mask:
COMFORT & FIT - it's likely your horse will need to wear their fly mask for long periods of time. Ill-fitting masks can cause rubbing, and you're likely to find them in the field rather than on your horses head.
EYE CLEARANCE - With long eyelashes, a fly mask needs plenty of space to avoid irritation of the eye.
UV PROTECTION - Sun exposure can cause squinting, watery eyes, sunburn, and in the long-term has the potential to develop in to cataracts or even cancer.
This video gives some good pointers on what to look for when choosing a mask: