Horse Faecal Sand Test
Online information sheet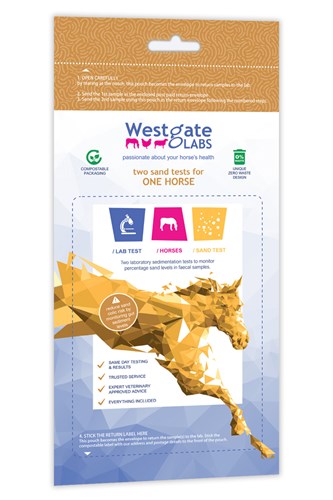 Horses presenting with sand colic usually have a history of grazing on sandy soils, overgrazing paddocks or being fed in a ménage.  For equines in these risk categories a faecal sample can be taken at intervals through the year and checked for sand to assess the levels in the gut.
With the variables of gut movement it is possible for the test to generate a false negative and show no sand in the faeces of horses that are carrying a burden. For this reason we include two kits; if no sand is detected in the first sample then take a second a few days later. If sand is detected in the first test then the second can be used to retest the horse following management adjustments.
For each sand test please fill three pots of dung to the top. 
How to take and send a sample for a horse sand test.
1. Open the pouch carefully by tearing at the tear notch; this pouch becomes the envelope to return samples to the lab.
2.Send the 1st sample in the enclosed post paid return envelope
3.Send the 2nd sample using this pouch as the return envelope.
4.Stick the compostable label with our address and postage details to the front of the pouch using the dotted line as a guide.
5.Take the sample and complete the return checklist on the back of the pouch
a. Use the glove to take a sample of fresh dung and fill three pots.
b. Press the dung into the sample container, filling it to the top to exclude the air gap; this ensures we have sufficient dung to test and also helps to preserve sample freshness.
c. Label sample with horse's name. Please write in ball point pen as water based inks may wash off.
d. Put the containers in the plastic bag and seal. 
e. Put the samples and voucher in the envelope. Compost the glove on your muckheap or include in the envelope.   
6. Remove the tape on the back of the pouch and double fold to seal. Pop in the post box