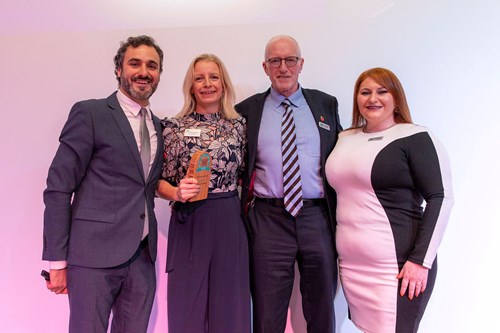 Westgate wins two industry accolades
17 November 2023
at the National SQP Awards 2023
Westgate Labs, a veterinary laboratory specialising in parasite control for horses and other grazing animals, took home two trophies at the National SQP Awards 2023. The firm from Middle Stobswood, near Morpeth won Online Retailer of the Year and Marketing Director Claire Shand was named Equine SQP of the Year (Suitably Qualified Person) at the glittering event in London on Friday 10 November.
Staged annually by OvertheCounter Magazine and Lewis Business Media to recognise excellence and best practice in the animal health and welfare industry, The National SQP Awards celebrate the best of the 7,000 businesses, services and professionals nationwide that are licensed to advise, prescribe and supply wormers and other medicines for animals.
Judge's praised Westgate Labs for putting animal welfare at the forefront of their work and for their professionalism and outstanding customer service. Of Equine SQP of the Year they said:
"Claire Shand's work speaks for itself; she is known throughout the sector. Not only has she worked hard at Westgate Labs, but she has given back to the industry this year, especially with the amazing amount of work she has put into CANTER, the new pan industry group formed to tackle the threat of wormer resistance. She is an asset to Westgate Labs, and a true professional in her role as an SQP."
Reacting to the news Claire commented: "We were overjoyed and slightly overwhelmed to scoop the trophy in both categories we were nominated in. It's also a rare chance in our line of work to get glammed up and win shiny things!
"Customer service is something we strive for every day so it's wonderful for our hardworking team to receive this recognition and to be seen to making a difference. Our mission is to help horse owners move to sustainable parasite control and to make this as easy as possible so that they test before treatment to target the wormers we have available. This will help to slow resistance and enable us to keep horses healthy now and into the future."
Employing 15 local people, Westgate Labs is a purpose built veterinary laboratory based on the family farm in Northumberland. For the past 24 years they have been leading the field in helping horse owners to manage the parasite control of their horses and other grazing animals. The laboratory offers a quick, easy to use, great value postal worm count and testing service that enables carers and keepers to target the wormers given to horses and keep them as healthy as possible.
With many thanks to the ANIMAL MEDICINES TRAINING REGULATORY AUTHORITY LIMITED, Over The Counter Magazine and sponsors Zoetis UK. 
Pictured above: comedian Patrick Monahan and The Animal Medicines Training and Regulatory Authority Chairman, Michael Seals present Director Claire Shand and Office Manager Sarah Mitchinson with their awards.
Pictured below: comedian Patrick Monahan and Tim Burgess from Zoetis present Claire Shand as Equine SQP of the year.