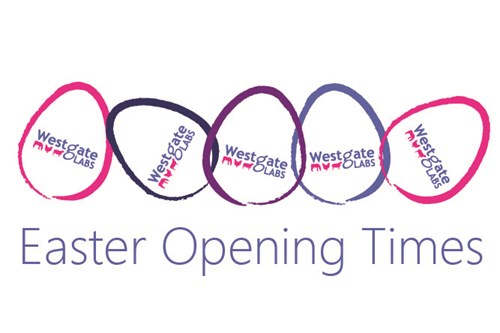 Easter Opening and Testing Days 2023
31 March 2023
Lab & Office Hours
If you're sending samples over the next week or so please be aware of post disruption due to the two bank holidays. Please try and get your samples posted by Monday 3rd April to ensure you receive your results before the Easter weekend.
We're open and testing every day there's a post this Easter so everything will still be tested and reported back to you on the day that we receive them. You can help to maintain the freshness of the sample by filling the pot full to exclude any air and make sure to write the date sample was taken on the back of the return envelope.
Friday 7th April: Lab & Office closed
Saturday 8th April: Lab open, Office closed
Sunday  9th: Lab & Office closed
Monday 10th: Lab & Office closed
Orders placed 7th- 10th will be posted on Tuesday 11th of April, when our normal service resumes.
We hope you get some time to enjoy your horses and some Easter treats too.
Happy Easter from all of the Westgate team!