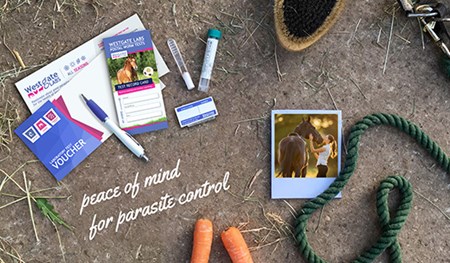 AUGUST SUBSCRIPTION OFFER
Try our new subscription service and get three months for the price of two! (minimum sign up period)
Earlier this year we launched a new service to help make following a best practice parasite control programme even easier for busy horse owners! The All Seasons service is a tailor made testing programme designed to take the guess work out of managing this important aspect of horse's health.
For a simple monthly subscription payment you receive a bespoke plan for your horse and all the tests needed to target the right parasites at the right time of year sent direct to your door. In addition to a regular schedule of worm counts and EquiSal tests for redworm, roundworm and tapeworm, the subscription also covers any incidental tests that might be required for pinworm, lungworm or liverfluke plus resistance tests to check for drug resistance.
Subscriptions start from £6.50 per calendar month. Sign up during August 2019 and get your first month free!

For more information simply click on the subscribe link, choose the type of horse you have and follow the on screen prompts to sign up your horse. We'll send out your first test(s) for your horse to get you started. The payment schedule will begin in September with your first month free. 
TESTIMONIALS
"What a great idea! I love that I don't have to think about this any more, the kits just arrive when I need them." ⭐️⭐️⭐️⭐️⭐️ 
D. Hart
"Faecal worm counts are so important but doesn't three months come round really fast? This makes life so easy! No more forgetting, thank you Westgate Labs!"
S. Hague