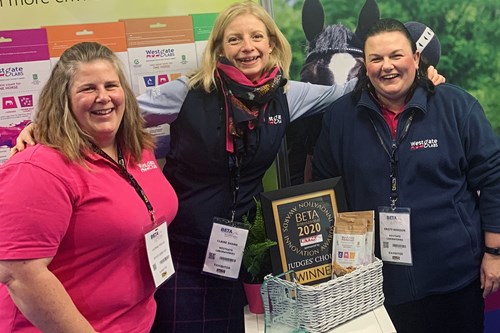 Westgate Labs Take Two Top Honours
22 January 2020
at BETA International 2020
Press Release
Horse health test specialists Westgate Labs were amazed and delighted to take two of the top honours at the British Equestrian Trade Association International Trade Fair 2020, 19-21 January. They scooped the coveted Judge's Choice Innovation Award for a test to help guard against the risk of sand colic as well as lifting a BETA Business Award for the All Seasons Subscription Service that provides horse owners with tailor made plans for their horse's parasite control.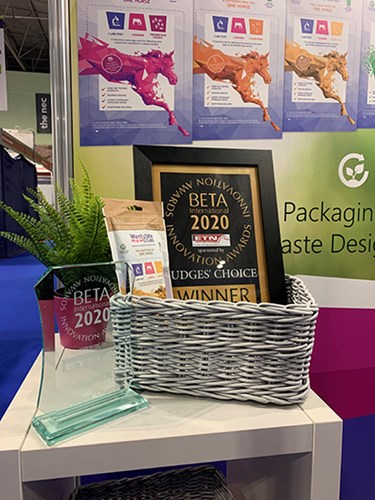 Judges' Choice Innovation Award Winner
Judges picked Westgate's Faecal Sand Test Kit as their innovation winner from the 64 products forward for consideration, presented for 'a product that ticks all the boxes for design, technology, sustainability and visuals and has a real wow factor'.
To help horse owners to identify whether their equine is at risk from sand colic, Westgate Labs have added a faecal sand test to their range of easy to use, evidence based test kits.
The kit contains everything to take and send two tests to the laboratory and will be available in retail outlets in new compostable packaging from Spring 2020. The attractive pouches feature a unique zero waste design that leaves nothing behind for the consumer and enables Westgate to take responsibility for the journey of the entire product from start to finish.
Once the pouches arrive back at the lab the packaging material will be composted on the muckheap.  In a few months' time the well-rotted manure will be used as fertiliser for tree planting in a new 74 acre nature reserve that Westgate has established on their family farm in Northumberland where the lab is based.
Judges' commented: "We like this move away from regular drugs. As well as being innovative, it is sustainable and supports equine welfare."
Consultant vet to Westgate Labs, Carolyn Cummins MVB Phd MRCVS, commented:
"A lot of thought has gone into bringing this test to market in a retail kit so it's amazing to finally launch it here to help horses. The test has already identified several equines with significant sand burdens that wouldn't otherwise have been recognised who have benefited from adjustments to management, supplementary feeding and in some cases veterinary treatment. In each circumstance ongoing measurement has seen sand levels decrease and the risk of sand colic lessened.
"Making this simple test more readily available will undoubtedly have a positive impact on horse health;  the way its packaged makes it easy to take and send a sample to the lab and the materials make sustainable, evidence based control even more environmentally friendly."
BETA Business Awards; TSM Marketing Effectiveness Winner
 Westgate Labs submitted the marketing campaign for their All Seasons Subscription Service launched in Spring 2019 for the new BETA Business TSM Marketing Effectiveness Award. This new honour celebrates effective marketing and communication solutions and the powerful role they play in solving business problems.
The service was built in response to customer feedback which described the difficulties owners felt about making the right choices for their horses and keeping track of when the next tests were due. The option to spread payment into a small monthly fee was also desirable. All Seasons Subscription service was designed to take the guess work out of managing this important aspect of horse's health.
Westgate Laboratories was praised for 'having clear objectives, effectively rolling out a desirable subscription model and being able to highlight the success of the launch campaign, both in terms of the generated interest and financial impact'.
Commenting on the trade show Marketing Director Claire Shand said: "What a fantastic BETA, we're blown away! We've always looked for creative solutions to problems, ever since my dad pioneered the idea of postal worm counts 21 years ago. We're really passionate about horse health and the environment so we're thrilled that we can bring this all together to create meaningful products that make a difference. Westgate is small family business and it means a lot to have our hard work recognised this way. Everyone has loved the new compostable packaging and it's really exciting to be rolling this out. It's going to be a busy year!"
More Information
BETA International is the world's leading trade show for equestrian, pet, country and giftware products. The 2020 show is taking place at the NEC, Birmingham, from 19 to 21 January.