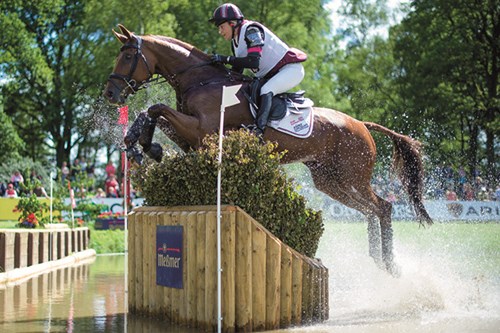 The Season Beckons for Bullimore Eventing
09 March 2018
Sarah talks plans and parasite control for her 2018 string
Sitting seventh in the World Eventing rankings with a string of top horses in training for the 2018 season and a talented group of youngsters on the rise, Sarah Bullimore is a rider for the watch list. She finished last season on a career best, including a second at Pau CCI4* with the talented Reve Du Rouet, and is hungry for more success.
Attention to Detail
Visiting the yard on a wintry February day the yard is gleaming from a recent spring clean, a hub of quiet activity; there is clipping in progress; contented heads look out over half doors; a couple of fresh horses stride out on the walker and Sarah leaps off from working another.
"For me it's about being as thorough as possible with our preparation, I'm a bit of a control freak when it comes to the horses, it's got to be right!" she jokes as we stop to admire Corouet, homebred son of 4* mare Lilly Corinne and sixth in the Young Event Horse World Championships 2017.
Beyond the yard Betty and Evie, both heavily in foal, doze in their paddocks and a handful of cheeky youngsters, further embryo transfer offspring from Lilly, look on with interest.
In her customary way Sarah leaves nothing to chance. As well as the riding and training, the majority of which she does herself, there are exacting standards for health and welfare. The horses are carefully monitored by World Class Performance Programme vets, for which squad sessions begin in earnest in the next few weeks.
Worm Control
Each horse's nutritional needs are carefully provided for by Emerald Green Feeds, Science Supplements and R-Oil and parasite control is another area where Sarah takes no chances by working closely with postal worm count specialists Westgate Labs.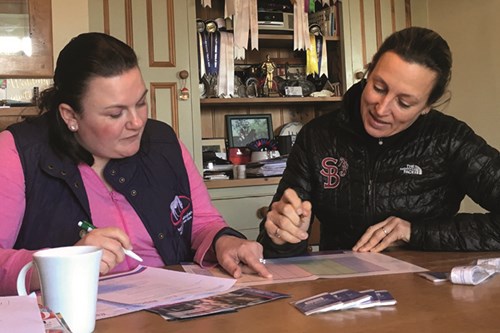 "We never had worms until we had youngsters" Sarah exclaimed. "It's scary how susceptible they are to them and what a worm burden can do to prevent them reaching their full potential. All the blood-lines in the world mean nothing if you don't give them the right start."
Every horse on the yard begins the year with a winter dose for the possibility of encysted redworm. After that the competition horses including Lilly Corinne, Reve Du Rouet and Valentino V pick up a regular schedule of testing, three monthly worm counts to monitor redworm and roundworm and an EquiSal saliva test every six months for tapeworm, only getting a chemical wormer if the tests indicate treatment is necessary.
The youngstock under four are also on a regular testing programme but on previous form are monitored more closely than the adult horses. They also need resistance tests early in the year following a December treatment for tapeworm to ensure the wormer has been effective.
Evie, a new addition to the yard, was tested and treated on arrival to make sure she wasn't bringing any unwanted parasites with her to infect the herd. She and Betty, both in foal, will have a moxidectin wormer a month before their due date to prevent them passing Strongyloides Westeri to their foals in the milk. After foaling they'll join the regular testing programme.
Unlike the older horses, once the foals are on the ground they will be wormed proactively from 4 weeks old to protect their undeveloped immune systems from the threat of parasites, particularly roundworm. Having identified fenbendazole resistance on the land a pyrantel wormer every six weeks is advised until they're six months old when a worm egg count and EquiSal test can be carried out.
"There are so many important insights that I would never have known about without targeted parasite control – it's a no brainer for me and I really value the backup and advice from Westgate that comes as part of the service" says Sarah, admitting to taking most of the samples herself 'to know it's been done right' before either she or husband Brett zips them to the post box down the road. "It's brilliant, the hardest bit is getting them to perform!"
The air is one of meticulous preparation, not to mention anticipation. With horses aimed at Badminton, Luhmulen and Bramham Horse Trials in the early part of the season this tight knit team has plenty to play for. As well as offering coaching to riders of all levels Bullimore Eventing also have a limited number of ownership shares available. For more information visit bullimore-eventing.co.uk