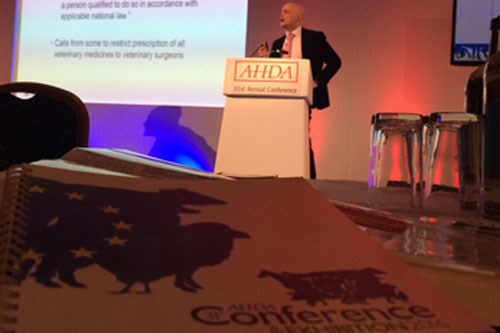 AHDA Conference 2016
20 January 2016
Top three worming take aways for horse owners
Three of the Westgate Labs team have been in Birmingham with members of the trade, manufacturers, industry experts and SQP's for the 31st Animal Health Distributor's Conference (AHDA), 19-20 January 2016. The forum focus is always to share best practice, innovation and new research in the world of the UK animal medicines market and this time was no exception with plenty of stimulating conversations going on. Here are our top takeaways from the event:
Responsible use of antibiotics and anthelmintics (wormers)
Most of us are aware that resistance to antibiotics and worming drugs is a growing problem. In the horse world Panacur (fenbendazole), which has been around for a long time, gets most of the bad press while we tend to think of ivermectin and moxidectin as being safe, effective wormers. We heard from Richard Irvine, a vet from the government's Animal and Plant Health Agency, who had worrying news from sheep farms in Wales.
From a small study area he has identified four farms showing multiple resistance to all wormer groups. This means that on these pastures there are no longer any drugs available to effectively treat the parasite burdens of sheep.
Richard urged us to help preserve the efficacy of our worming products by targeting wormers, using egg counts and tests to use them only where needed and to perform faecal egg count reduction tests after worming to help identify resistance.
Let wet winters be a warning for Liver fluke
Mild wet winters and a prevalence of flooding over the last few years has led to a surge in the cases of liver fluke, a parasitic flatworm which can cause serious and even fatal damage to its host, decimating livestock herds in badly affected areas. Although primarily a parasite of sheep and cattle there have been instances of fluke in horses, particularly those that co-graze with other animals on wet ground.
Professor Ruth Zadoks from the Moredun Institute at the University of Glasgow is studying this parasite to help us better understand its complex lifecycle and how to identify and treat it. Her watchword was "the right treatment with the right diagnostic at the right time" advocating faecal egg counts as a useful, non-invasive tool to identify adult, egg laying fluke between January and May. As there are currently no licenced flukicides for use in horses, where liver fluke infection is identified or suspected, treatment can only be prescribed using the cascade system from your vet.
>> More details on our liver fluke test
European law could limit wormer sales to vets
Unbeknown to most of us, the threat of European law on our ability to easily purchase wormers for our horses and other animals is ever looming. AHDA have been very active on behalf of us all over the last 12 months, lobbying to prevent legislation coming into force which could see wormers restricted to become vet supply only in the UK. We believe this would be a huge backward step and have a negative impact on horse owners and the rural economy.
The overriding mission and purpose of AHDA is to protect their right to sell and supply the range of prescription animal medicines not requiring veterinary diagnosis. Westgate Labs are Associate Foundation Partners of AHDA to support this important work.