Shops & Merchants
Retail worm counts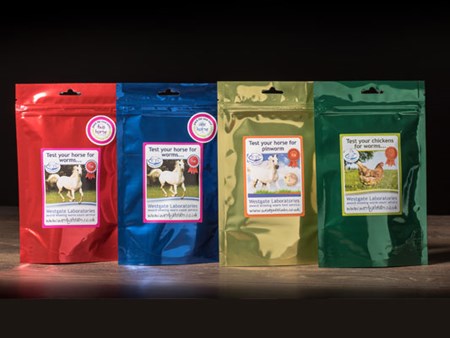 The easy way to offer worm egg counts and pinworm tests to your customers.
Westgate produce four retail worm count kit products that can be offered for sale in your store. The attractive foil pouches contain everything needed to take and send a sample to the laboratory for testing including a pre-paid envelope for return postage.
This product won the BETA innovations award in 2005 and has been a popular seller ever since. In 2010 we developed the worm count kit for chickens and in 2016 added the pinworm test kit to the range. The test kits were voted Your Horse Magazine Product of the Year finalists in 2016
There is no need to be AMTRA registered to sell this product. Westgate Laboratories do not sell wormers and our SQP's will refer your customers back to the shop if they require anthelmintics. 
How to order
Kits are available through Trilanco or can be purchased directly from Westgate Laboratories.
Please call 01670 791994 or e-mail info@westgatelabs.co.uk for more information.
Using Westgate Labs:
Whichever method you choose Westgate Laboratories are here to give you full support. Any questions can be addressed to our friendly, qualified staff, please Contact Us.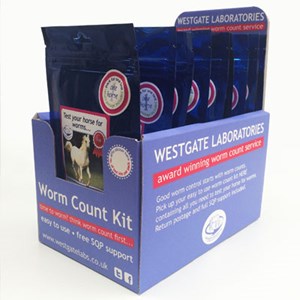 Retail worm egg count kit products 
Worm egg count kit for one horse (blue pouch)
Worm egg count kit for two horse (red pouch
Pinworm test kit for horses (gold pouch)
Worm egg count kit for chickens (green pouch)
Retailers who stock Westgate labs worm count kits can request refillable counter display units (pictured above) or display clip-strips free of charge, please ask.
RRP Single horse worm count kits: £9.50
RRP Double horse worm count kits: £18.00
RRP Horse pinworm test kits: £7.00
RRP Chicken worm count kits: £9.50
"We're very impressed with Westgate's pouch kits. They look great, very professional. We're getting lots of customers onto worm counting now and we know we can rely on these."
R.G. Shop owner