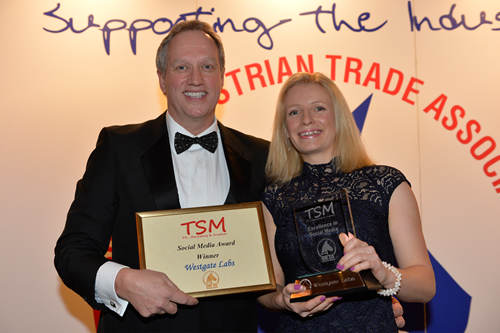 Westgate wins coveted BETA Business award 2017
20 February 2017
We were overjoyed to scoop the TSM Social Media Award
The British Equestrian Trade Association presented 15 honours at their annual business awards ceremony on Sunday 22 January to recognise companies and individuals judged to have made exceptional contributions to the trade.
Here at Westgate we were overjoyed to scoop the TSM Social Media Award, an accolade given to 'reward the company that best embraces social media and uses it to powerful effect throughout its marketing strategy'.
The judging panel considered application presentation, innovation and use, originality of content, compelling nature of presence, interaction with audience and accuracy and engagement of information.
It was very exciting to make the shortlist in our category alongside Baileys Horse Feeds and Aivly Country Store so we were even more thrilled to be called up to collect the trophy on the night from the lovely Tim Smith of TSM! Pictured above with Claire Shand, Westgate's Director of Marketing & Communications.
The judges commented that "all the company's social media platforms were clearly branded, with an extremely professional appearance. It was also successful in creating a voice that was warm and friendly, which made visitors to the sites feel part of an active and engaging community."
What's so rewarding is that this reflects our very mission which is to offer a top notch professional service but with down to earth, practical help and advice on what can sometimes be a confusing subject. We hope that the outcome is best practice parasite control, more sustainable use of wormers and most importantly, healthy horses and happy owners.
So why not head over and join in the wormy discussions on Facebook, Twitter and Instagram and follow us on our accounts:
Congratulations to all the winners – a full list can be found on the BETA website here – we feel among esteemed company!
BETA executive director Claire Williams commented: "The BETA Business Awards have continued to grow year on year and, as usual, our judges had the difficult task of narrowing down the finalists, however, they rose to the challenge and I am delighted that we have some really deserving winners. A huge well done to everyone who took part."