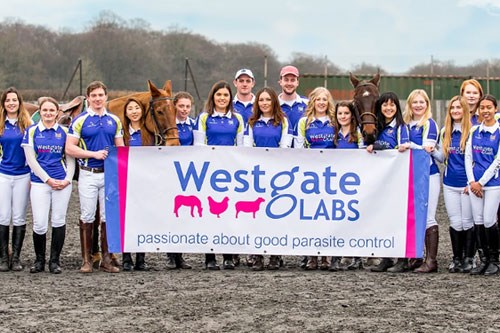 Royal Veterinary College Polo Team
01 February 2018
Backed by Westgate Labs
Postal worm count specialists Westgate Labs are delighted to announce a new sponsorship to support the Royal Veterinary College Polo Team for their 2018 season. The investment will go towards supporting the club's 40 plus student members and their mission to make the sport accessible for everyone.
RVC Polo Team Vice Captain, Kate Hanousek commented:
"It's very exciting to have the support of Westgate Labs and we think it's a really appropriate association. Not only do we all love horses as polo players but as vet students we are also incredibly keen to manage their welfare in the best way possible. A massive part of this is worming responsibly, targeting treatment using worm counts and tests not only for their individual health but to manage anthelminitic resistance. Westgate Labs provide an invaluable service for horse owners and veterinary practices alike and it's great to be working with them and benefitting from their expertise."
Westgate Labs Director Claire Shand commented:
"We're thrilled to be able to sponsor the RVC Polo team and support them in enjoying their sport. The benefits of interacting with horses are well recognised and the club offers students much needed downtime from their demanding studies. They're a great club and we've had a lot of fun working together already. We wish them the best of luck for the season ahead."
As well as competing successfully in various local leagues, highlights of the university polo year are the SUPA Winter and Summer National Championships. The RVC Polo Club heads to Onley Grounds in Warwickshire for the February competition to defend their title as reigning champions.