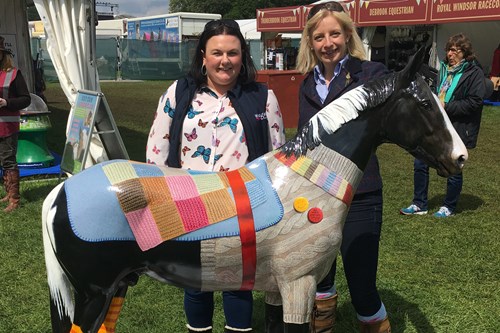 Westgate Labs helps to highlight World Horse Welfare's vital work
20 May 2019
by Sponsoring Frodo on the World Horse Trail
We're delighted to be supporting World Horse Welfare, helping them to raise awareness of their vital work by getting involved with this summer's World Horse Trail. The first leg kicked off at Windsor Horse Show, 8-12th May, where ten beautifully painted horse sculptures were positioned around the event. Each one portrays the story of a welfare case and Westgate is proud to be sponsoring the journey of Frodo's sculpture.
Frodo was found at just three months old by World Horse Welfare Field Officer, Rachel Andrews, collapsed and frozen with a heavy worm burden, he was close to death. Despite this terrible start he has made a great recovery thanks to the care and attention of the Penny Farm Rescue centre, blossoming into a stunning pony and going on to be crowned Rescue Pony Champion of the year at Equifest in 2018.
The incredible story of his rescue, rehabilitation and subsequent stardom has been the inspiration behind his piece on the World Horse Trail. Sculpted by Judy Boyt and painted by Jennifer Bell Frodo's figure shows him wrapped up in woollies to illustrate how he will be kept warm and safe in the charity's care for the rest of his life.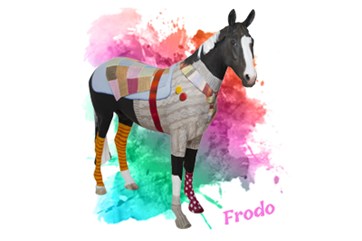 Kristy and Claire from the lab went down to Windsor where they had the pleasure of meeting Frodo and his sculpture and seeing him finish a very credible fifth in his class. They were also introduced to HRH the Princess Royal who officially opened the sculpture trail.
World Horse Welfare Director of Fundraising, Emma Williams, said:
"The horse sculptures are a fantastic visual way to show all the different aspects of how we help horses both in the UK and around the world, as well as celebrating some of the inspiring stories of rescued and rehomed equines.
"We're delighted to be working with Judy Boyt again and so grateful to her and all the artists, celebrities and sponsors who are helping us with the sculpture trail this year. We can't wait to see many people enjoying the trail across the Royal Windsor Horse Show and we hope visitors will also enjoy meeting the real-life trail inspirations Frodo and Lucas across the four days too."
The trail goes next to:
Gloucestershire Festival of Polo at the Beaufort Polo Club on 8th and 9th June
Royal Ascot week from 18th June
Countryfile Live at Castle Howard from 15th August
Look out for more details on where the trail will be heading next on the World Horse Welfare website and drop them a donation if you can.
Watch Frodo's story here: