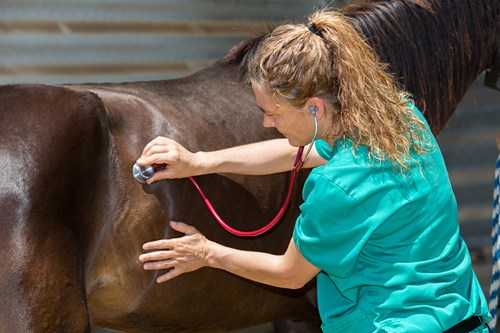 RCVS issues new prescribing guidelines for POM-V medicines
24 August 2023
including specific guidelines for antiparasitics (wormers)
Updated 8/9/23: The RCVS recently approved new guidance on prescribing prescription-only veterinary medicines (known as POM-Vs). The regulations, that were to come into effect on 1 September 2023, have now been delayed until 12 January 2024. The terms include specific controls around antimicrobials, with antiparasitics (wormers) being included in this definition.
This has understandably prompted some confusion around the general sale of equine wormers and their availability, so we felt it would be useful to provide some clarity around this for horse owners.
The guidance requires vets to perform a physical examination at the time of prescription in all but exceptional circumstances for all POM-V prescriptions of antibiotics, antifungals, antiparasitics or antivirals for an individual animal or group of animals (that are not production animals, farmed aquatic animals or game).
It states that the revision has been brought in 'given the importance of minimising the development of resistance to antimicrobials and anthelmintics, and minimising the potential negative environmental impact of antimicrobials and antiparasitics'.
ALL equine wormers fall outside of this requirement.
The guidance relates to POM-V classified medicines only. All equine wormers are classified as POM-VPS, meaning prescription only medicines that can be prescribed by a vet, pharmacist or suitably qualified person (SQP). This means they fall outside of the new RCVS regulations. Although they should still be prescribed and administered with care and only where necessary, a physical examination of the animal by the prescriber is not required.
Praziquantel only treatments for tapeworm.
Praziquantel only as a single chemical is slightly different. No longer available over the counter as a POM-VPS product, (withdrawn in 2018) praziquantel only has since been available on vet prescription under the cascade system, classified as an unauthorised extemporaneous preparation.
We previously reported that such a prescription, extremely useful as a species targeted tapeworm treatment, may fall within the new guidelines and require a physical examination prior to prescribing, depending on how this was interpreted by vets. However, we are heartened to hear clarification from BEVA that this is not the case since these specials aren't legally classified as POM-V. This means prescriptions for praziquantel only on cascade will continue to work as they have done since 2018.
THE OUTCOME
We are grateful for the conversations that these guidelines and subsequent clarifications have enabled and hope they serve to raise awareness of the availability of praziquantel only as a treatment option for a species targeted tapeworm treatment where it's needed. The outcome is good news for equine health and welfare as our battle against wormer resistance becomes ever more pressing. While praziquantel only isn't available over the counter, this next best option makes it as easy as it can be for horse owners to do the right thing without adding additional layers of complication and expense.
Having a praziquantel only option in our armoury saves unnecessary chemical exposure to other parasites (particularly small redworm and ascarid) when treatment for them isn't necessary, guarding against the further development of resistance. It would be our preference for a tapeworm only approach above alternatives such as a double dose of pyrantel or an ivermectin + praziquantel or moxidectin + praziquantel wormer unless other circumstances dictated their use.
Read the full RCVS guidance here:
https://www.rcvs.org.uk/setting-standards/advice-and-guidance/under-care-new-guidance/
Read the Statement on the delayed implementation here:
https://www.rcvs.org.uk/news-and-views/news/council-supports-practices-in-vmr-compliance-by-delaying/