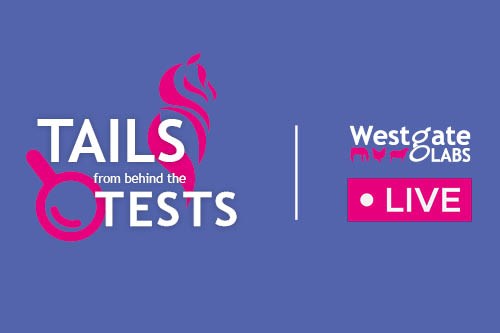 Tails From Behind The Tests
29 April 2022
NEW! Live Series on Facebook
We love to meet the horses whose samples we test. This Bank Holiday weekend sees the launch of a new evening series of short video lives where we catch up with a few of our favourites to find out a bit more about them and how their owners approach this important aspect of horse health. It's a chance to join them as they do their evening yard jobs with their horses and to listen and learn from their experiences. It's also an opportunity to ask us questions!
Tails From Behind The Tests will be live in the evening on Facebook on the dates shown below:
Monday 2nd May (bank holiday) - Kristy Hodgson, Westgate Labs
Kristy is as experienced as they come in managing horse parasite control problems, yet her young Dales Pony, Fern, who she has had since weaning, proved her own conundrum as a youngster with recurrent high burdens of drug resistant redworms. 
Tuesday 17th May

 at 7pm - 

Sally Rowe and Rabbit, Follow the Rabbit 


Sally and her characterful Highland Pony Rabbit, successfully compete in endurance riding and parasite control plays a part in the management and the care needed to keep a native pony slim, fit and in tip-top condition.

Tuesday 24th May at 7pm

 - 

Bethan Summers, Gawsworth Track Livery


Bethan runs an innovative livery yard with grass free turn out for laminitic horses and ponies that are mainly kept in a herd environment that requires amazing organisational skills when it comes to monitoring individual and whole herd health.

Tuesday 31st May at 7pm

 - 

Emma Blundell, Mount St John Equestrian


Emma and her team leave no stone unturned in the preparation of these elite athletes of the future and she will introduce some of the foals and discuss the importance of parasite control for them. 

Tuesday 7th June at 7pm - Laura Szuka, WannaBe In The Ribbons
Laura keeps her horse, Mikey, on livery and discusses how little she's had to worm in the last three years since being on Westgate Lab's subscription programme. We find out why this is better all round and how this system fits in with the livery yard's worming plan where Mikey lives. 
The above programme and time of each live chat may change. We also have more people with their horses soon to be confirmed as part of this series, so please keep an eye on our Facebook page for up to date details and times.
WATCH AGAIN
Episode One; Kristy & Fern