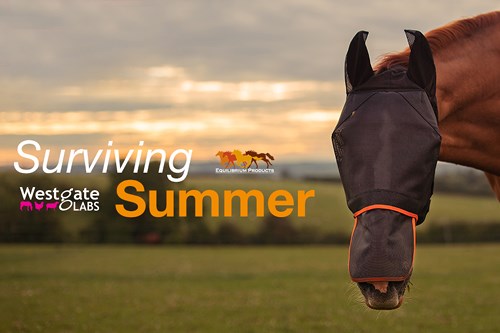 Survive the Summer Heat
15 June 2022
Watch our Facebook Live with Equilibrium Products
To scrape or not to scrape? Temperatures are set to rocket in the UK this weekend with some areas forecast to make 34 °C! We had a very timely chat this week with Laura Szuca from Equilibrium Products on a Facebook Live to talk all things summer horse health including the lowdown on the latest research on cooling horses.
Laura shared some great tips such as using fly rugs as a cold compress to bring relief, safeguarding against dehydration and fly protection while Claire from Westgate talked about internal horse parasites, sand testing to guard against the risk of sand colic and looked at ways to encourage some helpful horse pasture friends - Dung Beetles!
If you missed it live it's all available to watch again below:


Surviving Summer watch again
NB. The spot prizes mentioned in the video were drawn live on the night and are no longer available.
SURVIVING SUMMER Competition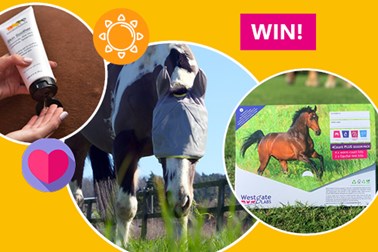 NOW CLOSED
Ease in to summer and enjoy your horse time more with a chance to win a great prize!
We're delighted to be teaming up with Equilibrium products to bring one lucky winner this 'Surviving Summer' Bundle, worth £280 for your horse! Competition closes midnight on Friday 17th June 2022.
COMPETITION NOW CLOSED

Summer Parasite Control
Every season brings its problems and even though we look forward to the long light days, summer is no exception. So while the battle to control flies is a visible daily trial at this time of year it's important to remember about other parasites too such as intestinal worms, pinworm, bots, ticks and summer sores that might affect the health of our horses. Grazing on restricted pasture can also increase the risk of sand colic so it's a good time to think about a test to monitor sand levels in the gut.

Equilibrium Products
Equilibrium offer a great range of products to help you beat the heat, from fly masks and rugs to nutritional support and by using the discount code GOLDEN10 you can get 10% off!