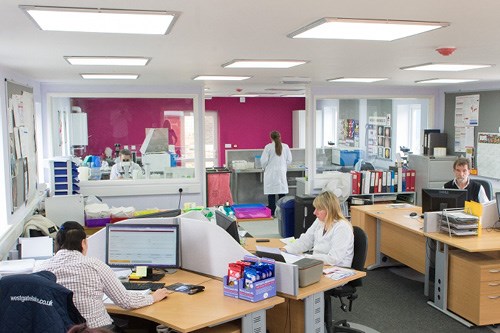 Setting up our business for resilience
31 March 2020
during COVID-19 Outbreak
Like many folk we've spent the last week or so adjusting to a different way of living and working. We've taken time to modify our working practices to help maximise our resilience and safe guard the health and well being of our team in the days of COVID-19. It looks as though social restrictions are going to be with us for a while so as things have settled in we wanted to update you on the measures we've put in place to look after our small dedicated crew and help sustain our capacity to see you and your horses through this tricky time.
Thanks for listening and for giving us the time we need to put these practices in place. Spring is a key time for parasite control so please send your horse's samples to the lab, we're ready and waiting to test them for you!
We're lucky that our spacious lab and office allows those of us who are still coming in to work to easily comply with social distancing recommendations. Meanwhile we're taking turns to work from home where possible which helps to juggle the additional commitments that many of us are facing with child-care and support for vulnerable family members. A couple of our staff members are in the shielded category and so are at home for the full 12 weeks. We're really missing them already but morale is high and we're enjoying the signs of spring all around on the farm.
If you're sending in samples please:
Clearly mark envelopes with a posting date. With Royal Mail services also under strain samples may take longer to reach us than usual. We have six days for a viable result. A posting date helps us to determine whether any are too old to test and prioritise testing older samples.
A lot of the admin and worming advice is being done by our home team so if you can then please email or message in the first instance. We're happy to call you back if you'd prefer to speak to someone directly.
Our online shop remains open and orders are being processed daily. Please order online if you're able.
Our continued thanks go to our brilliant team for their hard work and dedication to make all of this this possible.
We hope that you, your family and animals stay safe and well. We really do appreciate your loyal support at this time.
Stay safe and look after each other.
With Best Wishes from the Westgate Team
(Lab pictured pre social distancing but you can see how much space we have!)