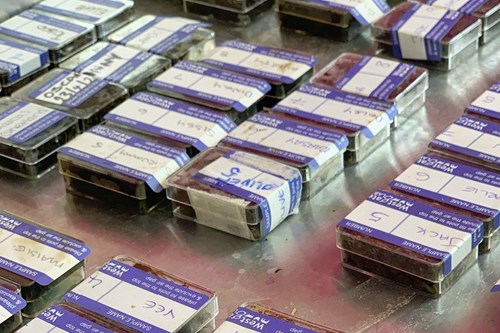 Service Update 24th April
24 April 2020
How you can help us
Spring is always one of the busiest times here at the lab, challenging at the best of times without a global pandemic to work through! As usual our fantastic team here are pulling out the stops to manage all the testing, packing, followups and admin whilst also complying with social distancing and additional cleaning and disinfecting routines.
Please be reassured that all samples are being tested on the day that we receive them - there is NO backlog in the lab for worm egg counts, pinworm tests, sand tests, liver fluke and lungworm tests. EquiSal are also doing several test runs in a week. Shop orders are being processed same day (orders received after 2pm will be shipped the following).
If you haven't heard from us
Our gallant postal service continues to face ongoing challenges with volume and staff shortages through this difficult time. While lots of samples are reaching us within a day or two a significant number are taking longer.
For worm egg counts: please leave it SIX days from posting before following up with a call to see if your sample has arrived with us. If we have it within this time you'll receive your result that day. You can also log in to your online account and see if your samples have been processed – once this happens a result will follow shortly.
Samples received after six days aren't viable to test. In this instance we will email/text you to let you know they've arrived and send you a new collection kit/vouchers asking you to resample. There is no additional cost to you for this resample. This all takes time and we recognise it's enormously frustrating – it pains us too! But it's essential for ensuring we generate the most accurate test results possible.
For EquiSal tests: please expect your results within two weeks. The preservative solution in the test tubes means an EquiSal test is stable for three weeks in transit before testing.
Please help us to help you by
Dating the back of the envelope to say when the sample was taken/posted. This helps us process the post more quickly and assess if any are too old to test.
Using your customer ID (where you know it) on vouchers and communications as this really helps us to locate your details faster.
Expect it to take up to six days from posting a worm egg count and up to two weeks for EquiSal to get results back – this is due to postal delays rather than hold ups in the lab.
We know it's frustrating and will do everything we can to help but some things are out of our control; please be kind.
What we're doing
All this means that normal office hours just aren't a thing at the moment! Technicians are working staggered hours until late into the evening as well as weekends and you may well have received emails and messages from us at different times. We promise we won't call at any antisocial hours though!
We're committed to doing the best job we can to help you manage your horse's well being during these difficult times. Stay well and keep smiling,
Big thanks from the Westgate Team