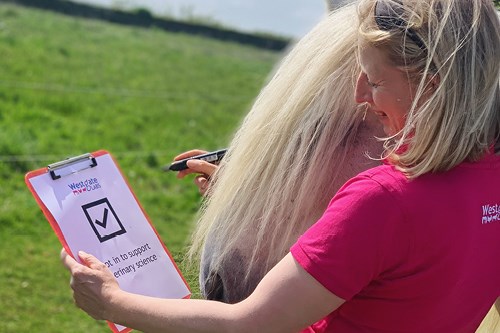 Saying yes could really make a difference to animal health!
22 May 2023
Please opt in to allow us to use your anonymised test result data for research purposes.
Resistance to worming chemicals is one of the biggest threats facing the equine community. We have one of the largest databases of animal parasitology test results in the world and, with your permission, we'd like to work with leading scientists in this field to analyse these data sets for research into parasite infection and wormer resistance. Opting in will allow us to include the trends of your results data in this important work and contribute to new developments to help us combat this growing veterinary issue.
All test data will be anonymised, we will never publish results that could identify you, where you live or your horses. Location data would only be as specific as the first four digits of your postcode and horse data processed as a number rather than by name, looking at group trends rather than individual results. These traits can then be cross referenced with information on climate and soil type data, for example, to understand what influences parasite risk.

By giving consent to use your results you're making an important contribution to this much needed research.
You can change your mind and opt out at any time by managing your preferences in your online account. While we can't remove your data from any analysis that has already taken place it won't be included in any future studies.
How to Opt In
We need you to login to your account online and go to 'Contact Preferences', scroll down to 'Your Research Preferences' and select the option to consent to the use of lab result data for research.
The potential risk to animals and horse owners has been carefully considered and perceived as very low.
Specific guidance for yard managers: by opting in to sharing data you confirm you have agreement from owners either explicitly or implicitly by your livery agreements. 
Thank you from all at Westgate