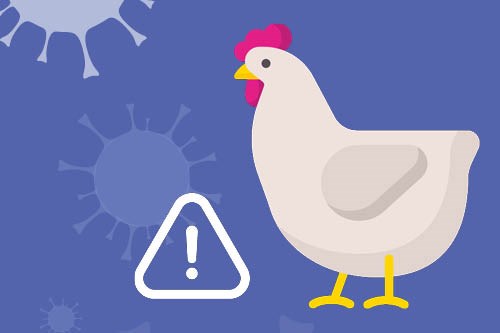 Please look out for avian flu in your flock
11 March 2022
And refrain from sending samples from any birds displaying symptoms
Avian flu has kept all domestic poultry under lock and key since November 2021. Sadly the disease is still prevalent in the UK and there's also some concern about risk to human health. In order to protect our staff we're requesting bird keepers please to refrain from sending samples for testing from any birds displaying flu like symptoms. Poultry owners with any concerns should contact DEFRA for further advice if avian flu is suspected.
Avian flu symptoms
Birds with avian influenza may have the following symptoms:
swollen head
blue discolouration of the neck or throat
dullness and lack of appetite
respiratory distress
diarrhoea
significant drop in egg production
Avian flu is a disease that exists naturally in wild birds, but the risk of infection tends to rise in the winter months due to an increase in migratory birds arriving in Britain that they can then pass the disease on to poultry and other domestic birds.
It is a notifiable animal disease so if you suspect it in your flock you must report this to DEFRA on 0300 0200301. If you find any visibly sick or dead wild birds or waterfowl, then leave them where they are and report to the DEFRA helpline on 03459 335577. To keep up to date with current measures and latest government advice use the links below:
Thank you for your understanding,
from the Westgate Team