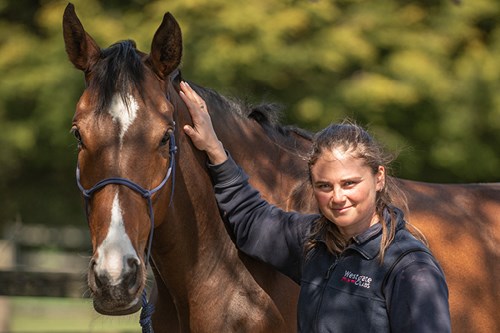 Miri Hackett and Joe Midgley
28 April 2023
Respected Equestrians step up to promote the importance of test-based parasite control.
We are delighted to announce the signing of two long-standing customers as Ambassadors to help promote the benefits of targeted parasite control for horse health and the environment.
Miri Hackett and Joe Midgley, both highly respected equestrians in their field, also share a devotion to the horse's overall wellbeing as part of their ethos. They recognise the threat to horse health that wormer resistance poses and have taken up the mantle to promote testing before treating.
Miri Hackett, Hackett Equine, commented:
"Everything I do is for the good of the horses, so when it comes to something as important as parasite control and limiting the potential damage to the horses with over worming, I jumped at the chance to work with Westgate Labs. The education around this topic is so vital for the health and wellbeing of our horses, an area of horse care that I feel is often overlooked. 
"I have used Westgate Labs for over six years now and the support from their dedicated team is one of the reasons I feel so reassured by their support, always on hand at the end of the phone to guide me and help to do the absolute best for my own horses and those in my care. I am so excited to become a brand ambassador for Westgate Labs and I can't wait to help them spread the word on such an important topic!"
Miri Hackett owns and runs Hackett Equine, a training facility in Bedfordshire established in 2016, alongside groundwork videos, ridden tutorial content, and ride along podcasts for her online training community. Miri believes it is our role as owners and riders to develop a common language with our horses, to listen to each horse as an individual, training every step through positivity and understanding.
Miri has also grown up with a science based family, her father a entomologist (bug scientist) and mother a parasitologist (scientist of parasites) so she has always known that parasite control in a conservative way is vital to the ecosystems that horses live in. The dung beetles, the grass, and the awareness of wormer resistance is at the forefront of her worming programme.
Joe Midgley, Joe Midgley Horsemanship, commented: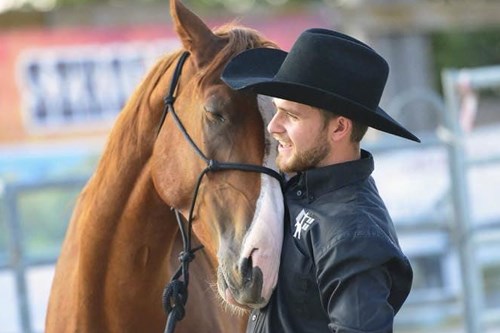 "I have been using Westgate labs for several years, so I'm thrilled to now be part of the team! Parasite control and the threat of wormer resistance is something that is so important to consider with our horses, especially when they travel away from home to clinics and demo's, so are at higher risk in parasite control terms. Westgate lead the way in providing the very best support to horse owners around the country. So much more than just trustworthy tests, the friendly team at Westgate make it all so easy to follow and expert support is there when you need it."
Joe Midgley, based in North Lincolnshire, is devoted to helping develop a trusting partnership with horses and believes the emotions and mental welfare of the horse is vital in creating that partnership. He travels the UK teaching lessons, performing demonstrations and clinics and especially enjoys educating youngsters, advancing horses in the traditional vaquero way and helping the troubled horse. Joe also has fast growing online coaching and tutorial platform 'The Good Horsemanship Channel' where you can watch, read and learn all aspects of horsemanship including how to worm a tricky horse!
Westgate Labs Director Claire Shand commented:
"It's fantastic to welcome Miri and Joe on board to the Westgate team to help spread the message about targeted worm control. We love the horse first approach of both their teaching methods and are excited to have two such influential voices joining the drive to promote test-based parasite control.
"Too many horse owners still reach for a wormer without knowing whether it's needed or not. This approach is fast-tracking our issues with resistance and will unwittingly lead us to untold heartaches. Working with ambassadors like Miri and Joe champions best practice and gives role models to horse owners, helping to change behaviour and protect our horses now and into the future."
Westgate Ambassadors are valued existing customers, with a passion for horse health and encouraging their friends and followers to take up responsible worming to help slow wormer resistance. They play an important part in Westgate's ongoing commitment to educate the equestrian community, as otherwise, what will we do when the wormers don't work anymore?