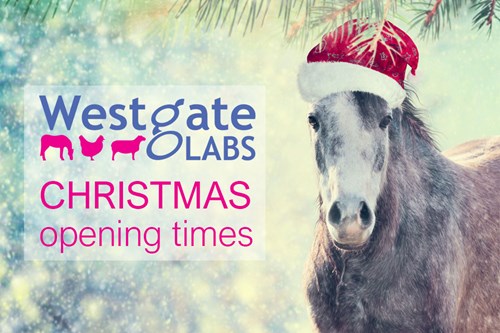 11 December 2018
Our lab and office will be operating a reduced hours service over the Christmas Holidays from Monday 24th December. If you are sending in samples then the lab will operate each day there is a post to ensure all testing is completed and results are returned. Any shop orders received will also be processed and sent out but the main office will remain closed for general enquiries. We'll be back to our normal hours from 2nd January.
Thank you for your custom over 2018, we hope you have a fantastic time over the holidays with your family, friends and animals and wish you a very happy and healthy year ahead in 2019.
Westgate lab and office hours:
Thursday 20th December - 9am - 12pm (closed pm for staff Christmas lunch)
Friday 21st December – 9am - 5pm
Monday 24th December - limited hours
Tuesday 25th December - closed
Wednesday 26th December - closed
Thursday 27th December - limited hours
Friday 28th December - limited hours
Saturday 29th December - closed
Sunday 30th December - closed
Monday 31st December - closed
Tuesday 1st January – closed
Wednesday 2nd January – normal hours resume
Please remember that the postal service is generally slower over the Christmas period and although we test all samples on the day we receive them, results may be delayed by a day or two for this reason. We have six days to test a sample for a viable result so please ensure you mark up when the test was taken so we can be sure we're getting you an accurate result with a fresh sample.
If you are sending EquiSal samples over the festive period then the last test run will take place on 21st December. All samples received in the interim will be safely stored in the fridge where they remain stable until the lab resumes testing on the 3rd January.