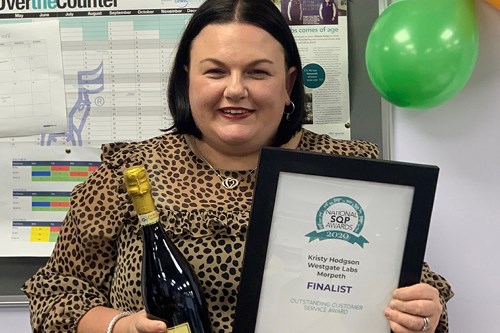 Kristy wins Outstanding Customer Service Award 2020
06 November 2020
for Westgate Labs
Press Release from 6th November 2020
Kristy Hodgson from postal worm count company Westgate Labs has scooped a prestigious accolade at the National SQP Awards 2020.  Kristy was announced as the winner of the Outstanding Customer Service Award at a virtual ceremony on the 5th November 2020.
The award recognises the exceptional customer service Kristy provides in the area of promoting best practice parasite control to horse owners. It cited the back-up advice offered by Westgate Labs to their animal testing service as 'critical to the success of enabling people to follow a targeted worming programme with their animals'. Kristy is central to delivering the guidance that helps to keep horses healthy as well as slow the development of drug resistance.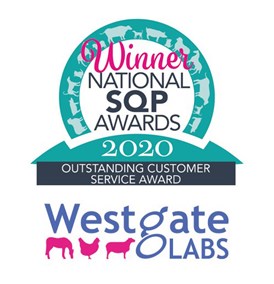 Commenting on the win Kristy said:
"Customer service is something that goes right to the heart of our ethos here at Westgate; it underpins everything we do so it's wonderful to be recognised for this. It's a whole team effort, not just me! We're all animal lovers here, we know how important they are to people and so we set out to provide the service we'd be looking for to care for our own animals. Worming and parasite control can sometimes be a confusing aspect of horse health so it's our aim to support and reassure our customers to do what's right for their horses."
The online ceremony provided a real highlight for the team at Westgate who decorated their office and held a socially distanced tea party while they streamed the broadcast.
"We had a really fun afternoon" Kristy continued, "it was a fantastic way to buck any lockdown two blues and involve the whole team. Just to be a finalist is such an accolade so to win is amazing!"
Simon King, judge and editor of OvertheCounter Magazine said: "Congratulations to Kristy who was a deserved winner. These awards have highlighted the breadth and depth of talent, drive and ambition among animal health advisors. In these unprecedented times, it was a pleasure to recognise the winners, but also all of those shortlisted, which, in itself, is a great achievement."
Head judge John Lewis, chairman of Lewis Business Media, added: "I was delighted to chair the judging panel; the winners have done themselves proud. It's been hard work but was a pleasure for the judges to deliberate about some great candidates. In some categories, there were very fine margins between the winners and those shortlisted. Congratulations to all the winners."
The National SQP Awards are staged annually by OvertheCounter magazine and Lewis Business Media in association with the Animal Medicines Training and Regulatory Authority and the Animal Health Distributor's Association, to recognise excellence and best practice in the animal health and welfare industry.
Full coverage of the event is available online at www.nationalsqpawards.co.uk  
Below; the awards party in the office