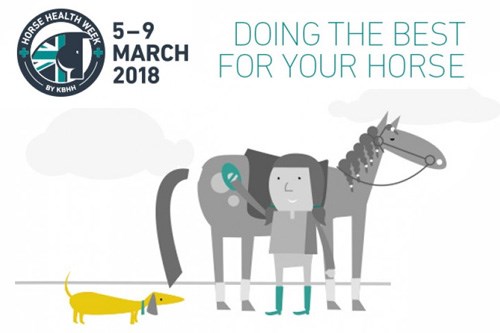 Horse Health Week 2018
06 March 2018
focuses on 'Doing the best for your horse'
This year's Horse Health week, which takes place 5-9 March 2018, is challenging horse owners to do the best for the horses in their care by ensuring they have good preventative healthcare practices in place.
The KeepingHorsesHealthy website identifies vaccination, dentistry and Faecal Worm Egg Counts (FWECs) as the cornerstones to healthy happy horses, something close to the heart of Britain's horse owning community and to healthcare providers.
Being proactive and taking steps to protect your horse against illness is by far the best way to manage them by preventing potential problems from developing. The website provides useful resources including animations, yard checklists and responsible horse owner booklets. 
Horse Health Week is a chance for you as horse owners to shout loud and proud about 'doing the best for my horse'. Get involved and enter the KeepingHorsesHealthy social media competition by uploading a photo showing you 'doing the best for my horse' on the KBHH Facebook page @KeepingHorsesHealthy. 
Here at Westgate Labs targeted worming is something we're very passionate about.  If you'd like to speak to one of our friendly experts about designing a programme for the horses in your care then please don't hesitate to get in touch.
Remember your vet is always happy to discuss any concerns you might have and can offer you advice on all aspects of preventative healthcare.