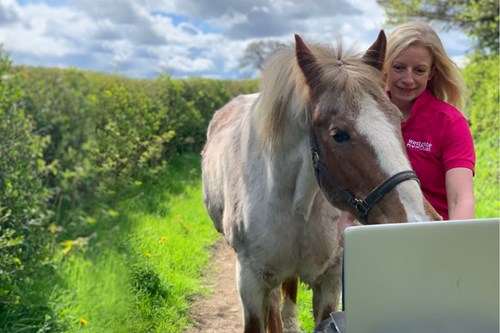 Free interactive training course for horse owners
30 April 2020
An Introduction to Parasite Control
Have you got 30mins to brush up your horse care knowledge this week? Find out about parasites in horses, the dangers of wormer resistance and how to use worm egg counts and tests in this fun short course. Aimed at 12yrs + everyone gets a certificate and the chance to enter our prize draw if you complete by the end of May!


We published this press release about the launch of the course on the 1 May 2020:
PRESS RELEASE
Award winning postal worm testing service, Westgate Labs, has produced a free interactive training course to help owners learn more about equine parasites and ways to protect their horses from worm damage. The module, entitled 'An Introduction to Parasite Control' went live today, 30th April 2020, and features fun facts, quizzes and videos to explain about the perils of wormer resistance and how to use worm egg counts and other testing methods to help keep them healthy.
Written for ages 12+ the course should take about 30mins to complete. Everyone is welcome to participate and it's free to take part. The quiz has been put together in partnership with BETA EquiToolz, a new online training platform for equestrian organisations. Claire Shand, Director at Westgate Labs and a Registered Animal Medicine Advisor (RAMA) wrote the module and commented:
"These are difficult times and many horse owners have had their usual horsy activities curtailed. We've heard of lots of parents who are feeling the strain of home educating and all of us are looking for constructive things to do while staying at home.
"We hope this is something a bit different, enjoyable and educational for people to have a go at online that will ultimately benefit horses. Worms and parasites sound a bit icky at the outset but if you can get over feeling squeamish then the way they live in and alongside our horses is fascinating!
The whole equestrian community needs to be aware of and to act on slowing wormer resistance. It's one of the biggest health threats to our horses globally so this is a really important message. We'd like to thank Kirsty at EquiToolz for their support in making it so easy to deliver this vision."
Everyone who finishes the course receives a certificate and those who complete before the 31st May 2020 can opt in to a free prize draw to win a 4Count PLUS Season pack of test kits for one horse RRP £69.90.
On the launch of the BETA EquiToolz Partnership
Westgate Labs' Introduction to Parasites is the first course of its kind to be published on a new training hub specifically for equestrians called BETA EquiToolz, a partnership between the British Equestrian Trade Association and specialist online learning company, Training Toolz.
Claire Williams, Executive Director of BETA said: "The launch of the BETA EquiToolz partnership is an exciting step which will make online training accessible to riding organisations but also the trade and enable them in turn to train both their retail customers and riding customers.  At this time there is not only a thirst for knowledge but the time to spend improving knowledge on so many facets of our sport."
Kirsty Collinson, Director at TrainingToolz Ltd commented:
"It's fantastic to be able to launch the BETA EquiToolz brand and assist in communicating such a vital message to the equestrian community; this is a super course that really highlights what our learning platform can do."
Feedback on the course from participants:
'Just finished the quiz. Thank you so much, it is a brilliant resource.' Claire Daniels, Chief Instructor for North Cornwall Pony Club
'OMG really enjoyed doing this, I love it – can't wait for the next one!'
'It's a great little course and easy to follow and I love the fact you've got "woolly mammoth" mentioned in there! Genius...'


To participate in the course you'll first need to register on the system with an email address. EquiToolz will send an email to verify this account and then you can log on to take part. Neither EquiToolz nor Westgate Labs will use your data for anything except the communications you opt into receiving.
We hope you enjoy taking part - please share if you do!