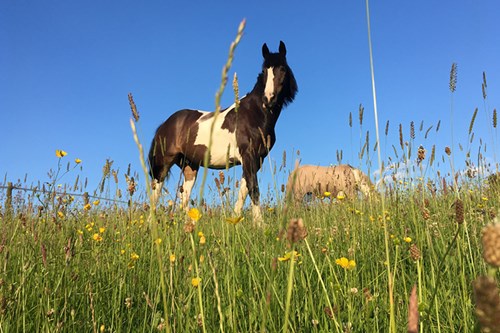 Locking in Carbon with Grasslands
03 June 2020
Free Grassland management webinar
The British Society of Animal Science, along with the British Grasslands Association are running a free webinar with advice to help to manage grassland in a way that stores carbon and reduces net greenhouse gas emissions. The session will concentrate on the science behind and the potential of soil, pasture and on-farm woodland to increase Carbon storage potential and improve efficiency (reduce emissions) with Prof Michael Lee, BSAS Global.
Soil
The view of soil as a living system will be advanced through emphasising the vital role C and organic matter has in defining soil health to improve assimilatory processes which will increase conversion of nutrients into biomass and decrease loss to the environment.
Pasture
Examining how pasture composition, grazing management and multifunctionality in swards can improve net efficiency of herbage growth and the return C to the soil, combining with the role of pasture composition for increasing efficiency of nutrient utilization for growth and lactation.
Woodland on farmS
Woodland vegetation at different levels is a component of all grassland farms whether through hedge row and field margin trees, set aside woodland or agro-forestry. The potential of integrated livestock-woodland systems to capture C will be examined as a vital component of net zero through integration of woodland into their systems.
Register here 👉 bsas.org.uk/events/article/grasslands-webinar-series