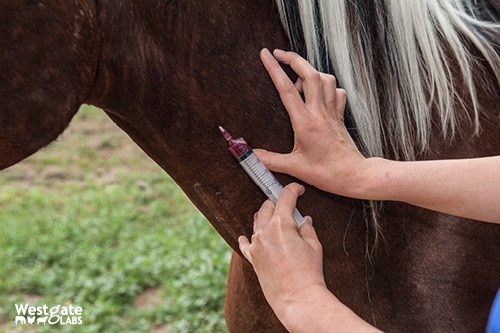 Diagnostic blood test for small redworm
06 August 2019
to launch in September 2019
Austin Davies Biologics, the laboratory behind the EquiSal tapeworm test, has yesterday, 5th August 2019, announced a second innovation into the equine market. A diagnostic service to detect small redworm, including encysted larvae, will be available as a blood test from September 2019. The test has been developed by Prof Jacqui Matthews' group at the Moredun Research Institute (MRI) and primarily funded through The Horse Trust.
The laboratory says: "The new test enables accurate detection of all life cycle stages, including the encysted larval phase. Until now it has not been possible to test for encysted small redworm as faecal egg counts only detect the presence of egg laying adult worms. This has meant that a routine winter treatment to target this life cycle phase has become the recommended practice. Now we will be able to test before we consider using moxidectin."
Carolyn Cummins MVB Phd MRCVS, consultant vet to Westgate Labs, commented:  "This is a game changer for parasite control in horses. A means of testing for encysted stages of small redworm is going to revolutionise our approach to winter parasite control. For the first time we will be able to rely on evidence based testing all year round, when combined with regular worm egg counts and twice yearly tapeworm tests. This is great news for helping to slow the development of drug resistance."
The blood test for small redworm is an ELISA format. Further technical information and guidelines will be published in due course. 

The new service is offered as a blood test which means it will need to be conducted through a vet. Speak to your registered practice for more information. A saliva version is in development but it is not expected to be commercially available for several years.