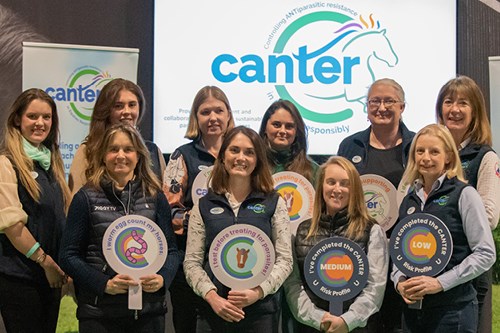 CANTER launches to Combat Wormer Resistance in Equines
07 March 2023
at The National Equine Show 2023
Controlling ANTiparasitic resistance in Equines Responsibly (CANTER) is a voluntary pan-industry group working in the interest of the UK equine industry and is believed to be the first organisation of its kind, worldwide, to form with the sole intention of combatting wormer resistance in equines.
Support from Top Riders
Top riders Piggy March, Miri Hackett and Anna Bridges gathered in support at The National Equine Show alongside CANTER representatives to launch this new initiative. 
Rider, trainer and coach Miri Hackett commented:
"As someone who has grown up with a science based family, my father a entomologist (bug scientist) and my mother a parasitologist (scientist of parasites) I have always known that parasite control in a conservative way is vital to the ecosystems that our horses live in. The dung beetles, the grass, and the awareness that we want to avoid wormer resistance is at the forefront of my worming program. We are so grateful for the support from Westgate and their advice and worm counting service as this allows us to avoid blanket worming and helps us to minimize the amount of chemical wormers we need to use. I am so proud to be a part of the CANTER initiative."
CANTER LAUNCH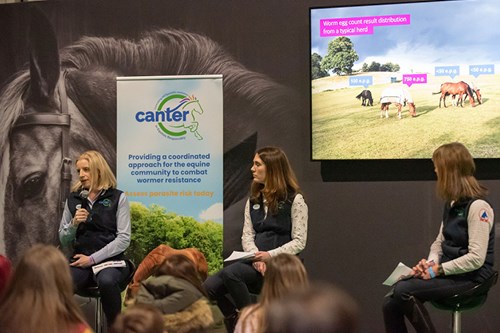 Claire Shand, experienced SQP from Westgate Labs and Communications Sub Group lead for CANTER, presented the launch with an informative talk on the challenges of wormer resistance and the implications this has for yard managers and horse owners. Dr Claire Stratford from the Veterinary Medicines Directorate and Claire Williams from the British Equestrian Trade Association then discussed the aims of CANTER to support a consistent approach to parasite control across the equine community and to become a 'single source of truth' on issues related to antiparasitic resistance in equines, in an area that has traditionally seen some mixed messaging.
The three Claires then called for horse owners to assess parasite risk with their prescriber, to test first to target treatment and to poo pick paddocks, all to reduce exposure to wormers and the development of resistance.
Westgate are thrilled and proud to be part of this important initiative and Claire Shand commented:
"It's been such an exciting few days launching CANTER and seeing the fruits of a lot of hard work become a reality! Standing shoulder to shoulder to share the message about parasite resistance alongside passionate colleagues from across the sectors was a real buzz. The only way we will tackle this serious issue is by working together to inspire change. CANTER has already created a lot of momentum in this area and it encourages hope for the future that we can really make a difference and through it, to safeguard the health of our horses."
Parasite Risk Tabl

e

The call to action from the launch is to encourage people to assess the parasite risk profile of their horses. CANTER has developed a free profiling resource for horse owners. The Parasite Risk Table highlights the broad range of factors that influence a horse's parasite risk. Working through the risk factors of the CANTER acronym: Clinical history, Age Profile, Number of horses, Test results, Environment to give an overall parasite Risk profile, the easy assessment tool categorises horses as low, medium or high risk of parasite infection and disease.
Badminton and Burghley winner Piggy March commented:
"I am supporting the CANTER initiative which aims to reduce the threat worms pose to our horses. It is more important now than ever to ensure we are future proofing our equine population in the UK.
"Go online and complete the risk checker to find out how at risk your horse is of getting parasites and to ensure we can all do our bit to keep our horses healthy."
Assess the parasite risk of your own horse's health and become an advocate by talking about this with friends at the yard and online. Enter the competition before 2nd May 2023 and you could also win £100 of vouchers! Click on the link below to visit the CANTER website www.canterforhorses.org.uk assess risk and enter the free competition.
ASSESS YOUR HORSE'S PARASITE RISK PROFILE