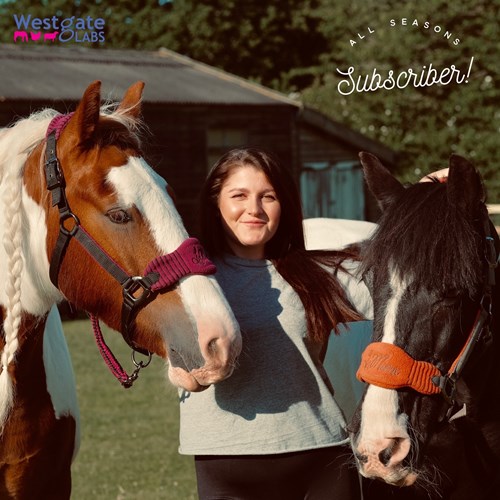 All Seasons Subscriber Feature
24 October 2019
Meet Gabby, Hamish & Hugo!
Gabby Saleh, is a registered Veterinary Nurse and just for fun 'Insta-vlogger' based in North Norfolk with her horses Hamish and Hugo.  She has a real passion for horse welfare and is a self confessed geek when it comes to finding and reviewing the best products on the market to look after her two coloured cobs and can normally be found on instagram stories where she has a daily vlog @hamishandhugo. 
Gabby reviewed the All Seasons service for Absolute Horse magazine and had this to say about the service:
"I have been a subscriber since April 2019 and I wish there had been a service like this even earlier.  I remember being sat flicking through Facebook, thinking about how I needed to order worm egg count kits when the new service popped up on my newsfeed - it was a no-brainer for me and I signed up that evening!  As a veterinary nurse working in a small animal practice, I love the fact that services such as preventive health plans are so readily available making regular treatments easy and affordable for clients and so it was welcome news to me that such a service was now available for the equestrian community!"
All Seasons Horses'
Gabby has two horses that are at opposite ends of the age spectrum so has two individually tailored programmes for each horse and pays a monthly direct debit fee with everything she needs sent straight to her door.  Gabby told us that when she first received the packs, she was very impressed with the content and information provided, instantly making her life simpler!
Hamish is 29 years old so as a veteran with health issues he needs some extra TLC best suited to the High Risk Horse Plan. This includes annually: 6 x worm egg counts, 2 x Equisal saliva test and 1 x resistance test but may also include pinworm, lungworm, liver fluke and sand test if required.

Hugo is 5 years old and healthy so suits the Adult Horse Plan which includes annually: 3 x worm egg counts, 2 x Equisal saliva test and 1 x resistance test and other tests are also available if required.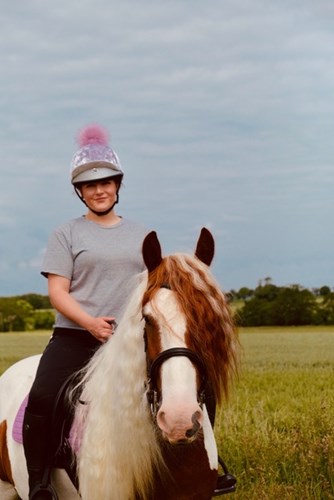 Gabby said: "The 'All Seasons' subscription service has been a life saver for me, as an equestrian I think we are always busy and on the go, which makes simple things like ordering your worm egg count kits difficult to remember! It has benefited my horses health because I now have a strict worming schedule where I make sure I am testing samples and seeing the results before worming them - thus preventing 'overworming' and it keeps me on track to ensure their health is not at risk from pesky parasites!"
"I would absolutely recommend this service, as I have never been so up to date with my worming program and the results are always sent out very quickly which means I can also get the horses treated quickly (If needed).  Horses are an expensive hobby so this provides a way to spread the costs throughout the year and its great value for money!"
"Subscriptions services like the All Seasons from Westgate Labs are the future and I would encourage you to have a look at what they can offer you and your horse to get you on your ideal worming schedule!"
If you want to read more about Gabby and her horses then you can find her on pages 16-18 in the November issue of Absolute Horse Magazine.

Sign Up
If you would like to sign up to the All Seasons service then we have a great offer during November 2019 where you get one month free! SIGN UP HERE