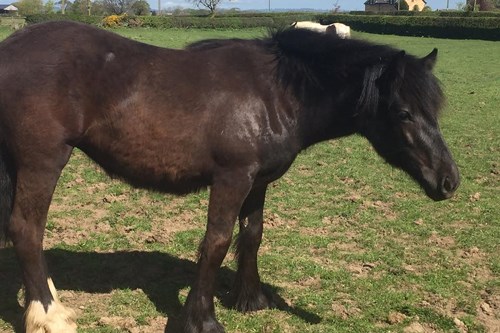 Fern is a Dales Pony who arrived as a weanling at 11 months old with no known worming history. Horses who haven't had worming support during this early stage in life often go on to have more parasite problems than those that have proactive help. This is because their immature immune systems have had no support to defend them from parasites. Over the next couple of years Fern struggled with a challenging redworm infection that gave us plenty of cause for concern.
She arrived with a medium redworm count of 1000 eggs per gram which were successfully treated with a 5 day fenbendazole (Panacur). It was only after this that the first of the real problems began! We've documented her test results and treatments over this time in the table below.
Fern was turned out on to previously grazed pasture and almost immediately her worm egg counts began to rise again as her immune system was challenged by small redworm present here. These are the most numerous of horse parasites and, with such a quick lifecycle of between five and six weeks, an unchecked burden can quickly get out of hand.
Despite treatment every month during the summer of 2018, Fern's worm egg counts rose steeply to 1700 epg to the end of August, which was deeply concerning. Veterinary guidance was sought to prescribe wormers at such frequent intervals and her weight was calculated using a weighbridge to ensure correct dosage was administered each time. Testing proved that the intervention was necessary as her system was continually succumbing to the small redworm infection.
Alongside worming Fern was fed an immune boosting supplement and managed on a track system to promote a healthy weight and fitness. To our relief her worm egg count results improved slowly but surely as she matured. From the autumn of 2018 we were able to decrease treatment intervals to every two months. From the summer of 2019 as a then two year old her results stabilised further. Although we are clearly dealing with some resistant worms, Fern's own immune system stepped up to be better able to deal with parasite infection.
Since then as a three and four year old we continue to keep a close eye on Fern with a worm egg count every eight weeks and targeted treatment where appropriate. She will probably always have a susceptibility to parasite infection because of her history and be deemed what we call a 'high egg shedder' within the herd but it's now under control and no longer cause for such alarm as that summer of 2018!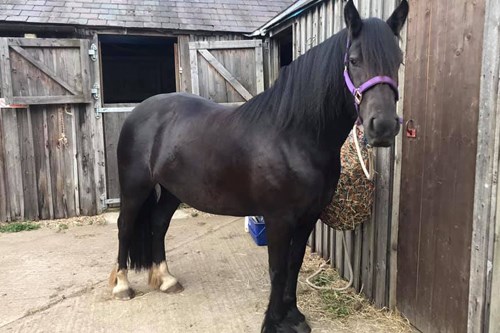 Pictured: Fern as a weanling when she arrived and now as a healthy four year old.
Takeaways
A horse's immune health plays a big part in their ability to resist parasite infection.
Foals should be proactively wormed from eight weeks old for their first year of life.
Carry out worm egg counts every eight weeks on horses under four.
Incorporate treatment with fenbendazole and pyrantel alongside ivermectin and moxidectin where necessary to cover potential ascarid infection in young horses.
As with adult horses, moxidectin should be reserved for the winter dose wherever possible.
> more on worming foals and youngsters


Fern's Worm Egg count and treatment history
| | | | |
| --- | --- | --- | --- |
| Test date | Result | Wormer given | Comments |
| 20/04/2018 | 1000 epg | Fenbendazole 5 day | Arrived as a poor looking weanling having had no worming treatment. |
| 17/05/2018 | 50 epg |   | Fern  had a worm count when tested but this responded to the Panacur – she didn't come with resistant worms |
| 21/05/2018 | 100 epg |   |   |
| 01/06/2018 | 200 epg | Ivermectin |   |
| 11/07/2018 | 700 epg | Moxidectin |   |
| 30/08/2018 | 1700 epg | Panacur 5 day | The worm egg count rose steeply over the next three months despite treatment! |
| 13/09/2018 | 200 epg | Double dose pyrantel as Mod/high EquiSal result |   |
| 25/09/2018 | <50 |   |   |
| 22/10/2018 | 250 epg | Ivermectin granules |   |
| 30/11/2018 | <50 |   |   |
| 11/12/2018 | 400 epg | Moxidectin -17/12- saw redworm |   |
| 11/02/2019 | 300 epg | Moxidectin 13/2 |   |
| 15/04/2019 | 200 epg | Ivermectin |   |
| 10/06/2019 | 200 epg | Ivermectin |   |
| 08/08/2019 | <50 |   |   |
| 29/08/2019 | <50 |   |   |
| 11/09/2019 | <50 |   |   |
| 03/10/2019 | <50 |   |   |
| 04/11/2019 | 300 epg |   | Fern's own immune system becomes better able to deal with the infection. |
| 21/11/2019 | 200 epg |   |   |
| 03/12/2019 | 400 epg | Moxidectin |   |
| 17/01/2020 | <50 |   |   |
| 07/02/2020 | <50 |   |   |