Westgate Labs
Brand Ambassadors
Westgate Labs is lucky to have some wonderful Brand Ambassadors who act as advocates and help spread the word to horse owners about the importance of targeted parasite control and reputable diagnostic testing as part of overall horse health.
Sarah Bullimore - International Event RIDER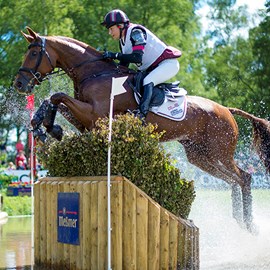 We've worked with the team at Bullimore Eventing for several years now and have always been impressed by Sarah's approach to the management of her yard. The whole team are meticulous about the wellbeing of their horses and reflect the same values of professionalism, quality and care that we set ourselves here at Westgate.
"Targeted parasite control is a no brainer for me and so quick and easy with the backup and advice from Westgate Labs. It's always busy on the yard with competition horses coming and going and foals and young stock on the ground. Using their trusted service and knowing their friendly experts are just a phone call away gives me peace of mind that we have this essential aspect of our horses' care well covered to keep them in tip top condition through the season. I'm really happy to be working with Westgate to help spread the message about best practice parasite control so that we can highlight the importance of managing worm burdens to keep horses healthy while using drugs responsibly to slow resistance."

Follow Sarah and her team on Facebook: Bullimore Eventing


Laura Szuca - Wannabe in the ribbons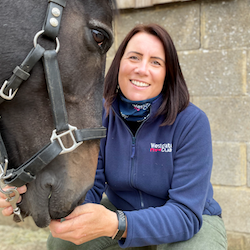 Laura lives in Bedfordshire and Mikey is a Irish Sports Horse who she has owned for several years.  They tend to do a bit of everything, although competing has been off the cards over the last few years due to lameness issues. Mikey was a bit of a show ring diva so we are hopeful they can get out soon to try their hand back in the show ring competing in some veteran showing classes. 
"This is my second year working with Westgate Labs and before coming a Brand Ambassador for them I was a customer.  The service is fab, and the team are so knowledgeable, I don't mind admitting that I have certainly been on a learning journey on all things parasite management but I am now firmly in the camp of test before treating so you know what is going on with your horse and will help spread that message to horse owners whenever I can."
"I recently moved yards and so of course one of the things to check off the list for me was what is their approach to worming. I was pleased to hear that the yard and the liveries already used Westgate Labs. As a Brand Ambassador we benefit from the All Seasons Subscription service from Westgate is really does make life easier. The test kits arrive in the post just as you need to use them and the results are always back from the lab super quickly! If you do need to worm the team are on hand to advise the best options." 
You can catch their adventures and day to day life on Facebook: WannaBeintheRibbons  

Sally Rowe - Follow the rabbit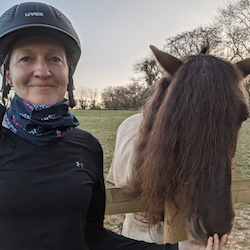 Sally and Rabbit, her Highland pony, live in Dorset and compete very successfully in endurance riding. As a long standing customer with so much to juggle to keep on top of Rabbit's overall health, wellbeing and fitness, she joined our All Seasons subscription service so we could plan the best targeted parasite control programme for her. One less job!
Sally decided to give endurance a go after visiting a promotional stand at an equine fair. "The early rides were pretty hairy, but giving her a job to do, a job that actually burned some of that energy up, helped calm her -and me! - down. It gave us a focus and going to new places made her less spooky as she had to really think about where she was heading. Of course, this being Rabbit, we've had plenty of drama, including Rabbit twice dropping to the floor mid-ride to roll in mud, trying to eat a steward's Hi-Viz vest while she was wearing it, taking off after some wild horses on the moors and starting a stampede, going bananas when she met some llamas and deciding to go solo and follow her own private route, triggering a search party,  after dumping me off 10k from the finish! It's fair to say we've had a lot of adventures!
"I have learnt so much about myself and Rabbit and what makes us tick as a team but also about horse welfare - fitness, diet, management and the care needed to keep a pony slim, fit and in tip-top condition. No easy task with a native pony who lives out 24/7 and whose favourite hobby is eating! I'm so very proud of Rabbit. She's gone from a muddy, fluffy, tearaway pony to a little star and is proof that if you want something badly enough and keep trying, you will get there in the end."
Sally and Rabbit completed 234 km in their first year and winning the Wessex Pleasure ride shield. In 2019 they were also selected for the England squad, competing 79km across two days at the Home International in Wales. They have competed for their local Wessex team in the inter-regional championships three times.
You can follow Sally and the #TeamRabbit blog on Facebook: FollowTheRabbit