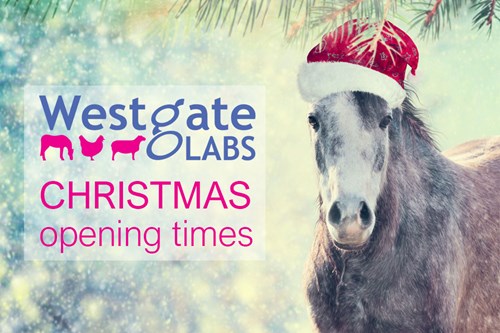 Lab opening times
11 December 2017
Christmas & New Year 2017
If you are sending samples in for testing, please note that our last full day in the lab before Christmas will be Friday 22nd December. We'll then be operating with skeleton staff in the lab & office on the days there is a post to ensure all lab work is completed and results are returned - namely Saturday 23rd December, Wednesday 27th, Thursday 28th and Friday 29th of December, reopening fully on the 2nd of January 2018. Shop orders will also be processed on these days.
Westgate lab and office hours:
Now until Friday 22nd December
9am - 4pm Monday
9am - 5pm Tuesday
9am - 12pm Wednesday, closed pm for staff Christmas lunch
9am - 5pm Thursday
9am - 4pm Friday
Christmas week:
Saturday 23rd December - limited hours
Sunday 24th December - closed
Monday 25th December - closed
Tuesday 26th December - closed
Wednesday 27th December - limited hours
Thursday 28th December - limited hours
Friday 29th December - limited hours
Saturday 30th December - closed
Sunday 31st December - closed
Monday 1st January - closed
Tuesday 2nd January - open as normal
Please remember that the postal service is generally slower over the Christmas period and although we test all samples on the day we receive them, it may delay them reaching us.
May we take the opportunity to wish all our fantastic clients and their animals a very merry Christmas and a happy and healthy 2018. Thank you so much for your valued custom!