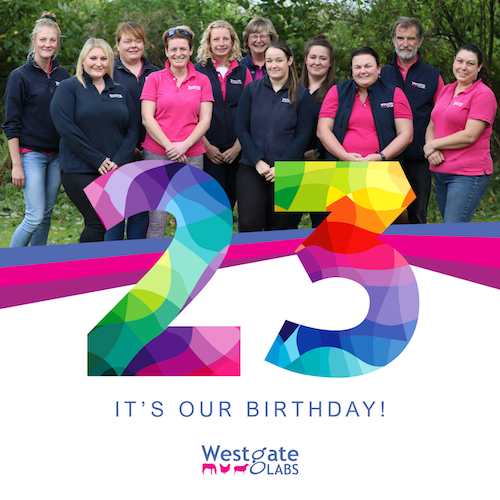 23rd Anniversary for Westgate Labs
11 February 2022
And Postal Worm Egg Counts!
Westgate Labs founders, David and Gillian Booth, placed their first advert in Horse & Hound, 11th February  1999, and when forward thinking horse owners responded the concept of postal worm counts was born! 
The last 23 years may not have been the most glamorous 😉💩 but we are extremely proud to remain at the forefront of improving the way that horses are wormed in the UK and supporting horse owners to slow the development of wormer resistance.


We continue, with your support, to spread the word and keep up to date with the most recent research to help our brilliant customers to get parasite control right for their horses and other grazing animals. We're continuing to innovate and develop new initiatives with an even greater focus on delivering five star customer service AND we're glad to say that targeted worming is now the absolutely recommended practice.


This year we're looking forward to the National Equine Forum where we've been asked to speak as part of a panel of experts on tackling the problem of anthelminitic resistance in horses
https://www.nationalequineforum.com/forum-2022/
We're also very pleased to be part of a pan industry working group set up by the Veterinary Medicines Directory to tackle this important topic. 45 external delegates attending from over 30 organisations shared their views and expertise on the core problems associated with anthelmintic resistance in equine parasites.
https://www.gov.uk/government/news/vmd-hosts-equine-anthelmintic-resistance-stakeholder-workshop
Still a small family business with helping horses at its heart, we plan to keep on innovating and sharing best practice on horse health for many years to come. Our friendly team will also be as busy on the ground to test your samples with our usual care and provide our award winning back up and advice. No question is too small so if there's anything niggling please don't hesitate to get in touch and we'll do our best to help.
We look forward to working with you through what we hope will be a more open and 'normal' year for everyone so thanks to you for choosing Westgate!