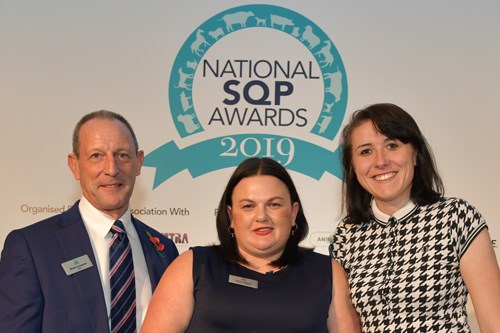 Kristy Hodgson wins National Equine SQP of the Year Award
14 November 2019
Our fabulous ops director Kristy Hodgson was thrilled to win National Equine SQP of the year 2019. The prestigious prize, which recognises excellence in the Animal Health Industry, was presented at the SQP Awards Ceremony at Kensington, London 7th November.
Commenting on her win Kristy, Operations Director at Westgate Labs said:
"Advising horse owners on parasite control for their horses, is something I find really rewarding. We promote responsible use of wormers so my role is very much focussed on testing methods and targeting the right worms with the right drug at the right time of year. I work closely with our customers and each horse is individual so there's a lot of problem solving, planning and discussion, especially on the more complex cases.
"At the same time we're also tackling the wider issues of drug resistance that is threatening the future of our whole equine population. There's never a dull moment and customer service is something we instill in the whole team at Westgate. I absolutely love my job but it's amazing to be recognised for the hard work that goes into it."
A Suitably Qualified Person (SQP) is an animal medicines advisor, a legal category of professionally qualified persons who are entitled to prescribe and/or supply certain veterinary medicines, such as wormers, under the Veterinary Medicines Regulations.
Host of the awards, Simon King, editor at OvertheCounter Magazine said: "The third National SQP Awards have been a fantastic success and I am delighted that SQPs from across the UK have been recognised for their commitment to their customers. This was a particularly hard fought category and the winner of the Equine SQP award really had to shine. Kristy is a worthy winner and demonstrates an extremely high level of knowledge, enthusiasm, professionalism and passion for the industry to her customers and the wider equine community."
There are currently around 7,000 qualified SQPs in the UK so were super proud of her. Well done Kristy!