Best practice worm control advice
following discontinuation of "Equitape" horse wormer in October 2018
Advice Sheet prepared by Westgate Labs, Austin Davis Biologics and Professor Jacqui Matthews of the Moredun Research Institute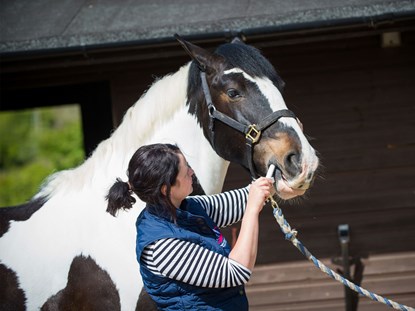 > An update to this news story on the availability of praziquantel has since been issued here
From October 2018 the wormer brand, Equitape®, commonly used to treat tapeworm infection will be discontinued from sale in the UK. This wormer is the only licenced product for horses containing praziquantel as a single active ingredient. Going forward it will only be available in 'combination wormers' also containing either ivermectin or moxidectin, the drugs most commonly used to treat small and large redworm (strongyles). Equitape's removal from the portfolio of veterinary medicines available to target specific worm infection presents a challenge to prescribers and horse owners alike.
Two leading laboratories; Westgate Labs, postal worm count specialists, and Austin Davis Biologics, manufacturers of the innovative EquiSal tapeworm test, are therefore responding to this news to stress the increasing importance of evidence-based control in managing worm burdens in horses. In partnership with Professor Matthews, Royal College of Veterinary Surgeons Specialist in Veterinary Parasitology and Parasitology Expert on the UK Veterinary Products Committee, they have set out to develop "best practice" recommendations to minimise the impact of the impending change in wormer products available for tapeworm treatment and control.
Professor Matthews commented: "I think it's an issue to limit prescribers' options for worm species-targeted treatments. Wormer resistance is a growing problem and has the potential to become a major horse welfare threat. Losing the option of a praziquantel-only product means that any treatment option for tapeworm infection will now also impact redworms, whether required or not. Frequent drug exposure speeds the development of resistance and, over time, has potential to significantly decrease the effectiveness of the few chemicals that we have to treat life-threatening worm burdens in horses.
"To guard against this, we must become more strategic with parasite control. This means seeking tailor-made solutions for control based on knowledge of management, infection risk, drug sensitivity and, importantly, robust diagnostic tests."
Evidence-based control
Regular testing should form the centre of any programme to determine whether or not a worming treatment is required to keep drug exposure to a minimum. Strongyle worm egg counts should be conducted every two-three months (with frequency depending on risk) and tapeworm tests performed every six months to monitor infection levels in healthy adult horses.
Lester & Matthews (2013) identified that: "Faecal egg counts can be used to identify the likely 15-20% of horses that need worming to reduce strongyle worm egg shedding and can reduce wormer use by up to 82%". EquiSal tapeworm test data suggests that fewer than 27% of horses tested require treatment for tapeworm (Austin Davis Biologics) and Lightbody et al (2017) demonstrated that using EquiSal Tapeworm in a targeted worm control programme reduced the use of tapeworm wormers by 86%. The statistics serve to show just how effectively a diagnostics-led worm control programme can minimise exposure to wormers.
The exception to evidence-based control is treatment with moxidectin in late autumn/winter to target encysted redworm and large redworm larvae, which can't be detected using worm egg count methods.
Consultant vet to Westgate Labs, Carolyn Cummins MVB PhD MRCVS commented: "With reduced specificity of treatment options, we are concerned that the temptation could be to treat more and test less. However with resistance rising, the only way of identifying problems is by testing routinely, together with resistance testing, to build up a picture of what's going on. Giving a wormer without understanding the worm burden present or without being aware of the efficacy of the wormer you're using is a false economy for your horse's health."
What does this mean in practice?  
Testing for tapeworm prior to the annual treatment for encysted redworm in late autumn/winter is an easy win. This will help to decide whether a moxidectin only (or where there is no resistance known, a 5-day fenbendazole) treatment is required or if a moxidectin + praziquantel combination wormer is advised to include treatment for tapeworm at the same time.
At other times of year where it has been confirmed that treatment for tapeworm is needed, a worm egg count should be conducted. If treatment for redworm is indicated at the same time, then an ivermectin + praziquantel combination wormer should be the first choice.
Alternatively, a double dose of pyrantel can be recommended for administration if;
the treatment is for tapeworm only
or
ascarids are also present (more likely in foals or yearlings)
or
the redworm population in question is known to not be resistant to pyrantel.
As a note of caution, in studies conducted by at Moredun Research Institute, small redworm resistance to pyrantel was found on up to 50% of yards, depending on the group of establishments tested.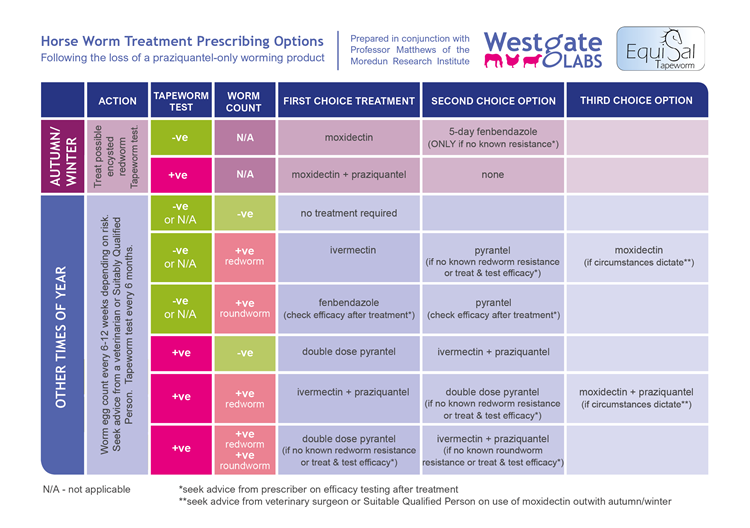 > Download the horse worm treatment prescribing options table as a .pdf
Use of moxidectin
Wherever possible, use of moxidectin should be preserved for targeting encysted stages of redworm and large redworm larvae in late autumn/winter. This wormer is the most effective for treatment of these dangerous larval stages capable of causing life-threatening colitis or colic.
Additional use is only recommended in exceptional circumstances when an experienced prescriber considers it appropriate; for example, a second winter treatment in horses grazed outside in winter, particularly youngsters, or those on poor/over-grazed paddocks at high stocking density. Worm egg counts should be carried out through the winter months in such populations to support treatment decisions. Keep in mind, the strongyle worm egg reappearance period in dung after moxidectin treatment (12 weeks +). Worm eggs detected before 12 weeks warrants caution as this may be an indication of early resistance. If this happens, seek advice from your prescriber.
Getting the dose right
Each horse owner or yard manager should be working closely with an experienced prescriber to design bespoke worm control programmes for the horses in their care. Once the most appropriate treatment for the situation has been selected, it must also be correctly and carefully administered. The most common error is under-dosing, either because the weight of the horse has been under-estimated or because of spit out. Under-dosing doesn't appropriately treat the burden present and serves to speed the development of drug resistance.
Reducing reliance on chemicals
Professor Matthews commented, "Wherever possible we must look to reduce infection risk and break the lifecycle of the worms without overly relying on wormers. Best practice control should include the following: strategic treatments, targeted (diagnostic test-led) treatments, annual tests for wormer resistance, good pasture hygiene such as poo picking and implementing appropriate quarantine procedures for new horses."
Ask the experts
There are many variables to take into account when putting together a parasite control programme for a horse or group of horses. An experienced prescriber such as a veterinary surgeon, an SQP in your testing laboratory or store, or an equine pharmacist, will not only be able to advise on wormer selection but also put together a strategic plan to manage this important aspect of horse health. A consultation should cover information such as the age range and health status of each of the equines, the way they are kept, pasture maintenance and relative risks of worm infection. This will help to produce a detailed guide of which tests and treatments to carry out when to protect against endemic disease as well as checking and managing the growing problem of drug resistance.

More information: https://www.moredun.org.uk/research/diseases/parasitic-roundworms-equine
References
Lester, H., Matthews, J.(2013) Equine Vet. J. 46, 139e145.
Lightbody, K. L. et al (2017) Equine Vet J, 50: 213-219.
Notes
Westgate Labs and Austin Davis Biologics are independent laboratories and do not sell wormers, they are diagnostic service providers and provide expert evidence-based control advice.
For relevance to the horse owner we have referred to parasites by their common names in the above text. For the avoidance of doubt these are:
Tapeworm; Anoplocephala perfoliata, Anoplocephala magna and Anoplocephaloides mamillana.
Small redworm; also known as small strongyles or Cyathastomin (spp)
Large redworm; also known as large strongyles or Strongylus vulgaris
Roundworm; also known as ascarids or Parascaris equorum
Bayer Animal Health is responsible for the production of Equitape and are the designated Marketing Authorisation Holder. The product is distributed by Zoetis.
As there are sometimes several brand names associated with the same active ingredient. We have chosen to use the chemical name of the drug in the description above in order to avoid confusion.
There are only five main types of wormer available to treat horses in the UK, namely: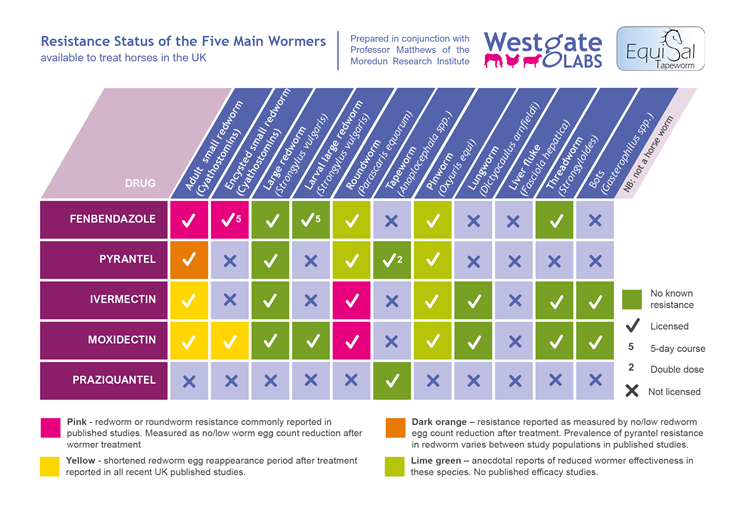 > Download the resistance status of the 5 main wormers for horse treatment as a .pdf
More information on licensed products available can be found at http://www.vmd.defra.gov.uk/ProductInformationDatabase/

About Westgate Labs
For the past 19 years Westgate Laboratories has been leading the field in helping horse owners to manage the parasite control of their horses and other grazing animals. The laboratory offers a trusted postal worm count and testing service including friendly veterinary approved advice, enabling carers and keepers to target the wormers given to horses and keep them as healthy as possible. More information at www.westgatelabs.co.uk
About Austin Davis Biologics
Austin Davis Biologics Ltd (ADB) is a science and technology company focussed on biosciences. As well as inventing the EquiSal Tapeworm test, used to diagnose tapeworm burdens in horses their additional parasitology research includes diagnostic tests for other equine helminth species, as well as diagnostic tests for various farm and domestic animal parasites. The team pursue collaborative research with a number of universities and partner companies, currently involved in projects with the Royal Veterinary College, Moredun Research Institute and University of Kentucky.
About Professor Matthews
Based at Moredun Research Institute (Edinburgh), Jacqui has worked in worm research/education for >25 years. Her group studies roundworms, focussing on vaccines, resistance and developing best practice strategies. She has published >135 papers and won > £13 million in research funding, with highlights, discovery of a sub-unit vaccine for brown stomach worm in sheep and development of a test for small redworm in horses. She dedicates much time to knowledge transfer on sustainable control to industry, stakeholder and scientific audiences and shares this @ProfJBMatthews. She is technical advisor to the industry group, COWS (http://www.cattleparasites.org.uk/) and is editorial board member of several research journals. Jacqui holds a Ministerial appointment on the UK Veterinary Products Committee and, in 2017, was granted Fellowship of the Royal College of Veterinary Surgeons and conferred Elsevier's International Journal for Parasitology Award.  She is lead investigator of an EU-funded multi-national parasite vaccine research programme, PARAGONE and is Honorary Professor at the Royal (Dick) School of Veterinary Studies, University of Edinburgh.