Westgate Labs and the Environment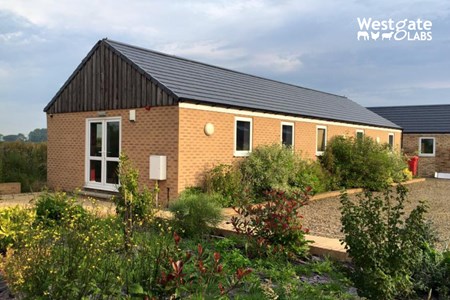 Since its tiny beginnings in 1999, Westgate Labs has operated from the family small-holding in rural Northumberland. Developing the business has always gone hand in hand with local environmental improvements wherever possible and the former 1920's council farm was definitely a project! In 2020 we launched compostable packaging for our retail kit and are constantly assessing the business to make environmental choices where we can.


Our Nature Reserve
In 2010 we committed to renovating the derelict brick piggeries to create a purpose built laboratory and office space with a focus on energy efficiency. More recently we've also created a nature reserve on our farm where the lab is based for habitat creation to help bring back plant and wildlife species to the countryside we love.
130 acres of land was returned to the farm from open cast mining industry that had worked the area for the last 30 years. The largest hole in Europe was once in our back garden! Rather than see it all put back into the harness of intensive farming we decided we would like to allow our piece of it to regenerate more naturally and, as the RSPB say, give nature a place. Watch the video below.
Doing Good Is Good Business
Our business at Westgate is founded on improving the health of horses and other grazing animals. Every day we help hundreds of owners, vets and yard managers to navigate what can be a confusing aspect of their horse's wellbeing. We offer professional laboratory services with expert veterinary approved advice from our friendly experts. Being able to make a difference in this way and in turn contribute to the bigger picture of slowing drug resistance and preserving the longevity of chemical wormers is a great thing.
Gold standard parasite control might not be glamorous but we don't mind; it still gives us the warm fuzzies! We try hard to extend this goodwill to the business decisions we make and the people we work with.
Working with others
We collaborate wherever possible to bring partnership benefits.
We are active members of CANTER, Controlling ANTiparasitic resistance in Equines Responsibly, a new pan industry group formed in 2023 to tackle the increasing threat that wormer resistance poses to horse health and the equine industry. We have invested significant resource to supporting this important initiative. Claire Shand sits on the Core Steering Group and leads the Communications subgroup, Kristy Hodgson is a member of the Diagnostics subgroup. 
Active members of the National Equine Welfare Council which provides the Code of Practice for Welfare Organisations involved in the Keeping of Horses, Ponies and Donkeys
Offer charity business rates for all registered animal charities. We work with World Horse Welfare, Redwings Horse Sanctuary, Bransby Home of Rest for Horses, Riding For the Disabled Association, Remus Horse Sanctuary, to name a few.
Provide free tests for World Horse Welfare Field Officer cases. > More info
Contribute free editorial to publications, create videos and social media content, support equine events, attend trade shows and speak at conferences, Riding Clubs and students to help educate and inform on best practice.
Process and Packaging
Through 2019 we undertook a comprehensive review of our packaging to help minimise waste and eliminate unnecessary plastic. In 2020 we launched compostable packaging for our retail packs based on a unique zero waste design for the consumer. We also upgraded all packaging for our direct lab services to resuable and compostable packaging, reducing our waste to landfill by around 75%. More info
Completed a process review to use recycled/recyclable materials wherever possible, minimise waste and recycle where we can.
Housed our business in a renovated piggery building on the family farm, purpose designed with a focus on energy efficiency.
We use sustainably sourced print from ethical businesses that champion environmentally friendly practices such as recycling and waste management.
FEN LETCH
130 acres of land restored from opencast mining works has recently been returned to the farm at Middle Stobswood where Westgate is based. We have chosen to designate this as a nature reserve for habitat creation and to encourage wildlife.
We've named the reserve Fen Letch after the stream that runs through the valley (letch being a Northumbrian term for a long, narrow marsh in which water moves slowly among rushes and grass). 50 acres have been planted with mixed native woodland species including alder, birch, oak, willow, hazel, rowan, blackthorn, hawthorn, rose and crab apple. Pines have been added into the mix in places in the hope of extending the habitats of nearby red squirrels.
Fen Letch opens out in several places to form three large ponds and the remaining acreage is made up of wetland, grassland and thicket areas. Already this contains a wide variety of species including wild orchids, birds foot trefoil, toad flax, oxeye daisies, knap weed, primroses, cowslip and bulrushes.
It is all still a very new landscape that is only just finding its feet and it's been fascinating to see how much it has developed in five short years. Some of the first trees planted in 2016 are pushing up above head height while slower growing varieties are only beginning to peep over the top of their protective tubes. We plant around 500 additional trees each season - which sounds a lot but looks like a drop in the ocean out in the field! Four mature trees will offset one tonne of CO2 and so we are planting our future to sequest more carbon than we use.
New neighbours that we've sighted include roe deer, fox, badger, hare and small mammals as well as frogs, toads and amphibians. The reserve is alive with bird song and keen eyes have spotted barn owl, short eared owl, curlew, lapwing, skylark, oyster catchers, heron and seabirds, plus migrating geese, ducks and swans. There are also a plethora of smaller tits, finches, linnets, warblers, wrens, swifts, swallows and sparrows. On warm still days the air swarms with dragonflies, damselflies, butterflies and moths.
A public bridleway runs through the site and both staff and locals enjoy walking and riding through the paths that David maintains on his tractor.
By supporting Westgate not only are you looking after your horse's health you will also be contributing to:
Fighting climate change
By removing CO2 from the atmosphere and locking it up, trees help to combat climate change. Recent studies have found that trees may be the best way to stabilise our climate.


Creating wildlife habitat
Trees and natural spaces provide important habitats for wildlife and are fundamental to the survival of many species.


Maintaining local water sources
Trees hold water, prevent flooding, restore underground reservoirs and maintain water vapour in the air, increasing the chance of rainfall and reducing drought and soil erosion.


Cleaning the air
Humans breathe in oxygen and breathe out carbon dioxide, trees do the reverse – cleaning the air that we breathe. Trees also absorb pollutants such as nitrogen oxides, ammonia, sulphur dioxide and ozone.


Creating a seed source for the future
Natural regeneration of trees is only possible where a viable seed source remains. Planting in areas without a seed source means the forest will be able to succeed itself once established.


Enhancing the landscape
Trees and wild spaces make beautiful spaces to enjoy. Research shows that time spent outside is good for our health and wellbeing.
Caring for Dung Beetles
We seek opportunities to promote the benefits of sustainable parasite control and how to better manage grazing to reduce parasite infection while also preserving habitat for dung beetles and other wildlife. Find out more using the links below:
Targeted parasite control to take care of dung beetles
How dung beetles could revolutionise your pasture
Poo-picking for parasites but what about the dung beetles